more news
Graduate Students Present Research on Current Environmental Challenges
Monday, August 19, 2019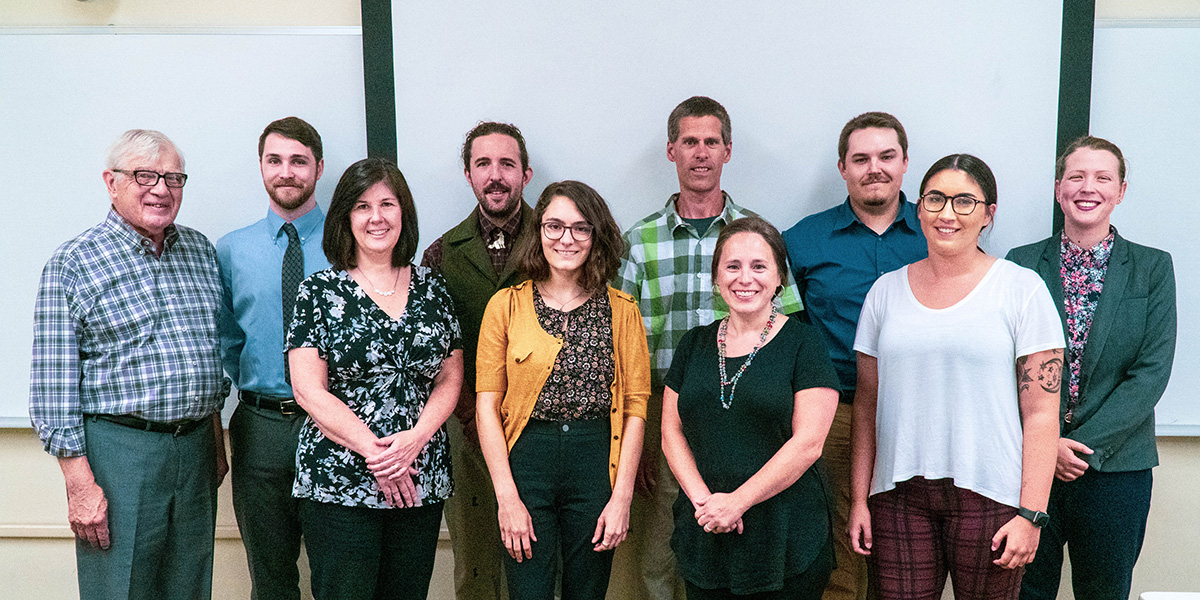 "I appreciate how the program takes an interdisciplinary approach to study the complexity and depth of environmental challenges today."
Keri Rouse '19
From the impacts of acid mine drainage to the role of diversity in sustainable agriculture, Point Park University graduate students in the Master of Science in environmental studies program recently presented research on a variety of important issues in the field.
"Coming from a communications background, I appreciated drawing the connection between our science courses and communicating the urgency surrounding environmental issues with the public. Recognizing this connection and its importance has encouraged me to explore paths in the environmental field that I hadn't initially considered," explained Keri Rouse '19, a graduate of Hempfield Area High School in Greensburg, Pa., and a graduate assistant for Point Park's Department of Natural Sciences, Engineering and Technology.
"I appreciate how the program takes an interdisciplinary approach to study the complexity and depth of environmental challenges today," Rouse added.
Point Park's 30-credit environmental studies graduate program is designed for individuals seeking positions and promotions as environmental professionals in industry, regulatory agencies and nonprofit organizations. The program's accelerated format of evening classes can be completed in as little as one year.
"The master's in environmental studies program is an excellent fit for students wanting to learn about today's environmental issues and how to apply the skills necessary to address a wide range of environmental practices from government planning in sustainability to managing water resources and much more," explained Matthew Opydke, Ph.D., professor of environmental science and director of the MSES program.
According to Opdyke, the program has helped many professionals establish themselves as leaders in their professions and communities.
"I selected Point Park University because they offered so much expertise in the area of environmental studies. When I was checking around for grad schools, the only one that really stood out and could give me the best opportunities to obtain a master's degree in this field was Point Park," said John Belinda '19, a graduate of Forest Hills High School in Sidman, Pa.
Belinda's favorite course in the program was Exploring the Environment and Health Connection. 
"This course taught me about Pittsburgh's environmental health issues from the late 1800s through the mid-1900s. I learned the history of and current issues surrounding infectious diseases, ambient air quality, water pollution, solid and hazardous waste management and energy demands, generation and use," Belinda explained. 
Belinda currently works as a transportation constructor inspector for DLZ Corporation in Bridgeville, Pa.
"The master's program in environmental studies at Point Park is a step towards advancing in my career at DLZ. My company values its employees, and if they value me, then I must value myself. Obtaining this degree means I have completed one of my many goals in life," Belinda said.
He added: "This degree will help me be a valuable asset, not only to myself, but to my wife, my soon-to-be child, my company and my peers."
Graduate Student Research Presentations
John Belinda
Methane Hydrates: Future Energy Source Relating to Climate Change and Global Warming


Jacqueline D'Amico
Using Integrated Pest Management to Decrease Pesticides in Eastern U.S. Orchards


Cali Feeney
Impacts of Acid Mine Drainage on Fish, Macroinvertebrates, and Biofilms in Aquatic Ecosystems 


Joseph Ludington
Effects of Small Dam Removal on Brook Trout Habitat


Kaitlyn Robson
Growing Together: the Environmental, Community, and Personal Benefits of Urban Gardens


Keri Rouse
The Ornamental Horticulture Industry: Challenges in Curbing an Introduction Pathway for Invasive Plants 


Alexander Suleski
Equally Green: Hazardous Waste Removal, Greenspace, and Localized Neighborhood Impacts 


Zoe Zentner
The Role of Diversity in Sustainable Agriculture 
More About: research, graduate assistantships, School of Arts and Sciences, Forest Hills High School, student presentations, natural sciences, Hempfield Area High School, graduate programs, M.S. in environmental studies