more news
Meet Hannah Felix, 4+1 Psychology Program Student and Intern at Inside Our Minds
Student Profile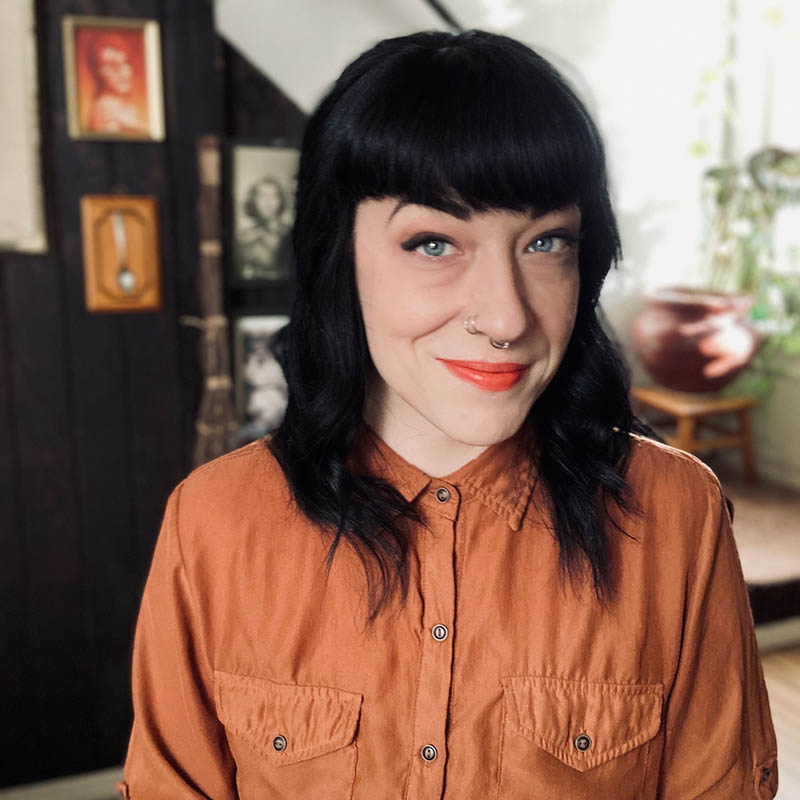 Meet Hannah Felix, '21 '22
Job Title & Employer

Intern, Inside Our Minds

Majors

Psychology-B.A., Community Psychology-M.A.

Graduation

April 2021, April 2022

Scholarships

Transfer Merit Scholarship

Hometown

Knoxville, Tenn.

High School

Old Knoxville High School

Now Living In

Pittsburgh, Pa.

Dream Job

Ultimately, my dream is to help to make a positive impact and lessen the burden of hate and hurt. I would like to work with and advocate for women, religious abuse survivors and the LGBTQ+ community.

Hobbies & Interests

My beloved and lazy cat Meowch, anything to do with David Bowie, good music, bad movies, thoughtful films (especially documentaries), engaging books, old-time radio shows, getting lost in museums, solo dance parties, drag shows and true crime podcasts.
"Psychology is taught at Point Park in a unique way that values a more humanistic and phenomenological approach to mental health."
Hannah Felix, '21 '22
As a mental health organization, Inside Our Minds is focused on identifying new ways to understand and conceptualize mental health. Tell us about the work you're doing for your internship.
I am primarily involved with a program at Inside Our Minds called Mental Health Cafe. It is a unique space focused on noncoercive, community-based conversations surrounding radical mental health and friendly mutual aid. Valuing lived experience is a central tenet to radical mental health approaches. With that in mind, Mental Health Cafe offers an open space to share resources, ideas and support in a voluntary and reciprocal community setting. While I am learning to co-facilitate the weekly meetings, I genuinely feel that the most important element to this internship is listening and learning from everyone else in the community.
How is this internship preparing you for your career?
This internship has encouraged me to reevaluate the way that I interact with the world and those in it. It has also deeply broadened my understanding of how the world we live in affects us and our everyday lives.
How have Point Park's faculty and classes helped you excel in this internship?
Psychology is taught at Point Park in a unique way that values a more humanistic and phenomenological approach to mental health. This encouragement of critical thinking and what can be referred to as "radical empathy" has allowed me to jump into Inside Our Minds and the realm of radical mental health without hesitation.
Why did you choose Point Park?
The smaller class size is what really drove me to choose Point Park. I love that I am able to engage with my classes and professors in a meaningful way; it makes learning feel much more personal and fun. As someone not from Pittsburgh, I was also drawn to Point Park because of its location. Adventuring around downtown between classes has become a favorite past-time on the days I commute into school.
What's your favorite class you've taken at Point Park?
Hands down, my favorite class so far has been Zombies and Psychological Life. We watched a bunch of amazing zombie movies and examined how the zombie is a reflection of humanity, society and our own finitude. It is absolutely shocking and fascinating what zombies and zombie lore/culture can teach you about the human condition.
Describe your favorite Point Park experiences.
I think that my favorite Point Park experiences are all centered around the connections I've made with others. I have been fortunate enough to meet some really incredible people at Point Park, both students and faculty, that have truly helped support and encourage me along my academic path.
I have also had the opportunity to connect with others in the community through participating in programs such as Inside Our Minds and the Mobile Thriving Respite. The Mobile Thriving Respite centers on trying to provide an element of living and thriving, beyond just surviving, to members of the street community, such as, for example, getting lost for hours in hilarious games of UNO while drinking far too much coffee. It's those sometimes fleeting moments of connection that I have found most meaningful.
More About: School of Arts and Sciences, M.A. in community psychology, internships, scholarships, psychology