more news
High School Students Describe Point Park's CSI Summer Camp As Challenging and Fun
Thursday, August 2, 2012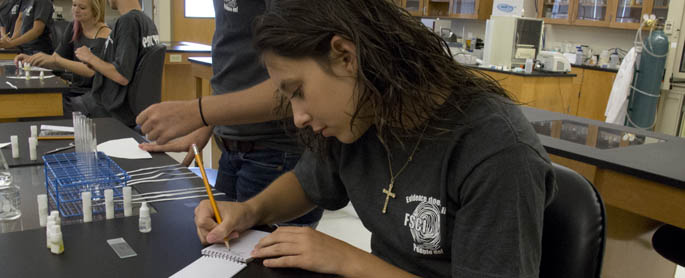 From a blood spatter analysis to crime scene lab work, Point Park University's CSI Summer Camp was packed with excitement and hands-on learning about the forensic science field.
Led by Edward Strimlan, M.D., assistant professor and coordinator of the forensic science program, the three-day CSI camp featured a mixture of lectures, labs and investigative work performed right on campus in Point Park's crime scene house.
CSI camp attendee Rachel Vichie, a student at Carrick High School, aspires to be a bio-detective. "I chose to come to this camp because I really like to solve crimes and would like to work in the forensic science field someday."
David Woofter, a student at Notre Dame High School in Clarksburg, W.Va., also came to the camp because he is interested in a forensic science related career. "My grandparents live in the Pittsburgh area and suggested I come to this camp. The lab work has been a lot of fun."
According to Strimlan, the camp was a great success. "All the students seemed to enjoy every aspect of the camp. Their responses in the 'forensic jeopardy' game held at the end of the camp told me they really learned as much as possible over the three days," he remarked.
Canon-McMillan High School student Danielle Parker described the camp as "challenging but fun." "Investigating in the crime scene house was a lot harder than I expected it to be but I enjoyed it," she said.
The forensic science program at Point Park University is geared toward preparing students for forensic laboratory careers working in areas such as trace, drugs, arson, toxicology, death investigations and DNA.
Photos from this year's camp:


More About: forensic science, CSI house, high school programs