more news
High School Students Explore Abstract Geometry at Annual Math Symposium
Thursday, April 24, 2014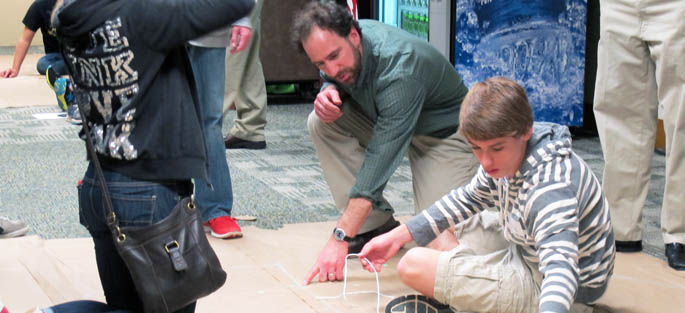 Professor Matthew Pascal, Ph.D., teaches high school attendees to draw large-scale versions of conic sections.
High school students experienced a fun mix of geometrical exploration and team problem-solving activities at Point Park's Annual Mathematics Symposium on April 4.
In the morning, students went on a scavenger hunt, taking pictures of buildings representing abstract geometric shapes - like golden ratio, tangent line, helix and torus - that were within two blocks of the Point Park campus in Downtown Pittsburgh.
For the afternoon activity on conic sections, students were given alternative definitions for four known shapes: circle, ellipse, parabola and hyperbola. They were then asked to draw large-scale versions of these shapes, estimating the area of a region in the overlapping sections.
Sophomore Jerry Meng attended the event because he plans to pursue a career in computer science. "Math is the basis of computer science," said Meng, who studies AP Calculus at Mt. Lebanon High School. "This event is a different approach from the classroom. It's more interactive than just solving problems on paper."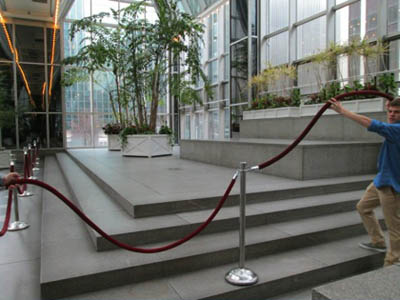 Check out a PDF of student group seven's presentation from the
geometrical scavenger hunt.

More than 50 students from 10 high schools attended the symposium, hosted by Matthew Pascal, Ph.D., assistant professor of mathematics and Darlene Marnich, Ph.D., professor and chair of the education department.
Participating school districts included Montour, Shaler, Thomas Jefferson, Penn-Trafford, Trinity, Hampton, Mt. Lebanon, Avonworth, Rochester and Moon.
Reis Zandier, who describes math as her favorite subject, travelled from Thomas Jefferson High School because she was looking for more opportunities to broaden her math skills. Currently enrolled in Algebra II, she is considering a career in engineering, math or science education.
"I'm always impressed by the creativity of the symposium attendees. These high school students were excited about mathematics and it came out in their ideas. They teach us as much as we teach them," remarked Pascal.
More About: Downtown Pittsburgh, high school programs, symposium, education, faculty, mathematics