more news
High School Students Explore Probability in Pittsburgh at Point Park's Math Symposium
Monday, April 27, 2015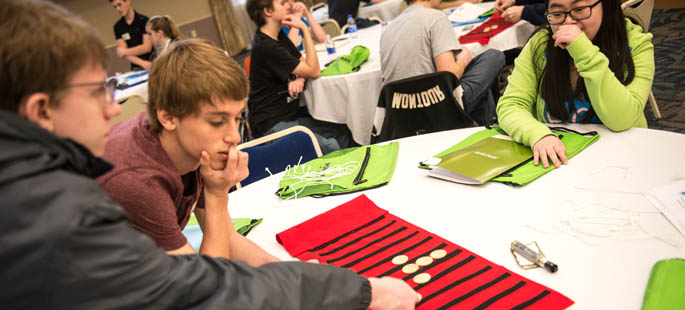 Twenty-eight students from Montour, Rochester, Shaler and South Allegheny high schools engaged in fun, hands-on activities focusing on probability and statistics at Point Park University's Annual Mathematics Symposium April 10.
Activities that taught the students about probability distributions and statistics included a scavenger hunt for bell curves in Downtown Pittsburgh and a guessing game of number combinations using large fibonacci and regular dice.
"It was interesting to see how probability distributions are everywhere. I wasn't aware of this prior to going on the scavenger hunt," said Jordan Waltz, a junior at Montour High School.
"This year's theme of probability and statistics gave the participants some interesting ways to be creative," explained Matthew Pascal, Ph.D., assistant professor of mathematics at Point Park. "The students even tied with me in the probability dice game I had been studying for more than a month!"
According to Pascal, several high school students, such as James Gualtieri, attended the symposium for the third time.
"I really enjoyed the math symposium my sophomore and junior years so I decided to come back again this year. It's become a tradition," said Gualtieri, a senior at Shaler Area High School.
Victoria Robertson, a senior secondary education math major at Point Park, has also been a part of the symposium for several years now, assisting with the event.
"I enjoy math and this is a great way to get field experience," said Robertson, who chose Point Park based on her experiences as a high school student in the University's College Now program.
Several high school teachers also provided their feedback on the symposium.
"This is a good opportunity for the students to get outside of their regular school environment and see math from a different perspective," said Tim Rishel, an Algebra II teacher at South Allegheny High School.
"There are very few math field trips like this for students. It's a well-organized event and my students really enjoy the meaningful hospitality Point Park offers," remarked Sommer DeRose, math teacher at Montour High School.
"This symposium offers a great college experience for the students," added Kate Elder, gifted and talented education teacher at Shaler Area High School.
"My favorite part, as always, was working with a group of kids who are enthusiastic about mathematics," said Pascal.


More About: Downtown Pittsburgh, education, Shaler Area High School, South Allegheny High School, secondary education, high school programs, College Now program, Rochester Area High School, Montour High School, mathematics