more news
History and Honors Programs Host Korean War Veterans Storytelling Session
Monday, March 25, 2019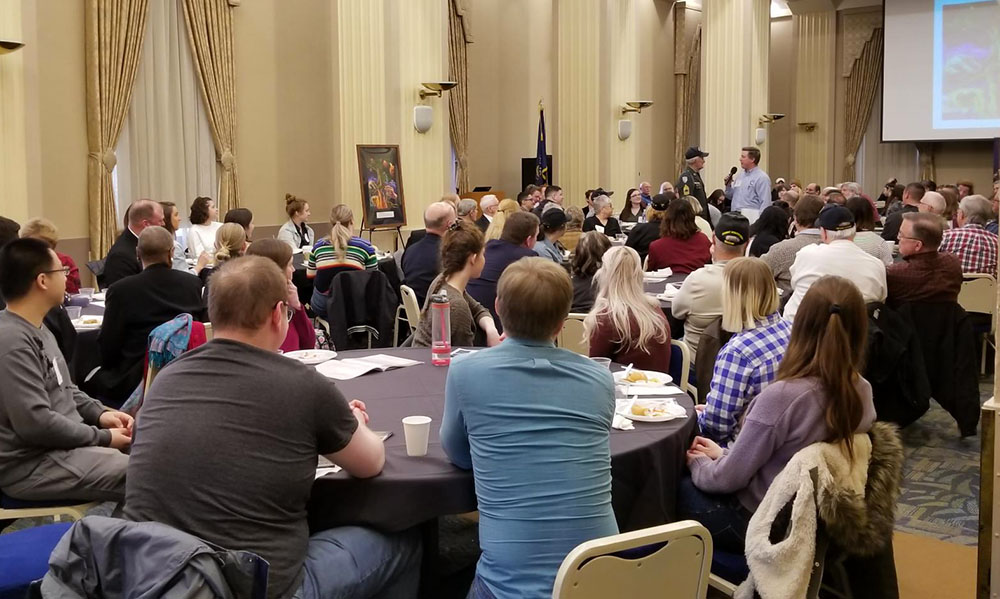 Photos by Jehnie Burns, Ph.D.
"I believe it is highly important to speak to veterans and hear their stories, especially those who fought in earlier wars such as World War II and the Korean War."
Allison Hritz, sophomore secondary education social studies major
More than 150 Point Park University students, veterans, and members and guests of Pittsburgh's Veterans Breakfast Club attended a Korean War Veterans Storytelling Session March 20 on campus.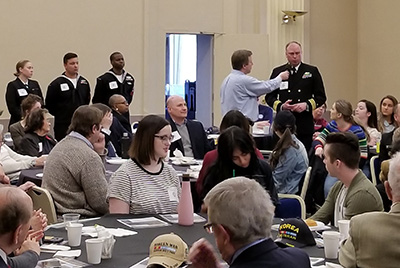 This was the fourth veterans event Point Park's history department and Honors Program co-hosted with the Veterans Breakfast Club, led by Todd DePastino, Ph.D., founder and executive director. 
"I believe it is highly important to speak to veterans and hear their stories, especially those who fought in earlier wars such as World War II and the Korean War," said Allison Hritz, a sophomore secondary education social studies major from Sharon High School in Sharon, Pa.
Hritiz added: "I found it interesting that many of the veterans felt a sense of duty to join the services outside of being drafted, whether this be because of their family history or other reasons. I also found it remarkable that the veterans found not just sorrow, but a sense of joy from their experiences."
Associate Professor of History Jehnie Burns, Ph.D., said: "I loved seeing the students and the military veterans laughing and talking together over lunch. It's not often that we actively put different generations at the same table and give them a chance to interact. They all seemed to be having a great time."
Burns added: "Todd does an amazing job highlighting the reality of war when he talks to veterans while still keeping the events he organizes fun and celebratory. I think students need to hear those first-hand accounts to understand history."
Senior interdisciplinary design major Yasha Breslove attended the event for his World History: Asia/China class.
"I really appreciated the veterans' specific memories and their accounts of events. Their stories and senses of humor were particularly inspiring given the history they were a part of, and I was impressed by the details they were able to recall. Specific dates and exact number of days in service were mentioned by a lot of the veterans, and I think the fact that those details were easily recalled and not forgotten is telling about the significance of what they experienced," explained Breslove, a graduate of City Charter High School in Pittsburgh.
Helen Fallon, M.A., professor of journalism and director of the Honors Program, added: "This program was our fourth, and we all — faculty and students — learn so much from Todd and the veterans.  Their stories bring history to life for all of us. What is also interesting is that I met several Point Park alums and former students in the crowd. They were thrilled with our efforts, too, and loved that their alma mater was sponsoring such an event."
As part of an ongoing partnership with Pittsburgh Arts and Lectures, Point Park has offered a series of Korean-focused programs. Honors students have read or are reading Pachinko, a novel by Min Jin Lee about a Korean family that fled to Japan.  
Additionally, Assistant Professor of Cinema Hanjin Park, M.F.A., talked about his documentary work on North Korean defectors with students in the fall.
Author Min Jin Lee will visit campus April 1 at 10 a.m., and a limited number of tickets are available to her lecture that evening, which starts at 7:30 p.m. at the Carnegie Music Hall in Oakland. The tickets include admission to a reception for the author from 6-7 p.m. 
To attend either or both events, contact honorsprogram@pointpark.edu or call 412-392-8192.
More About: interdisciplinary studies, veterans, history, alumni, secondary education, City Charter High School, faculty, School of Arts and Sciences, Honors Program