more news
Intelligence and National Security Studies Grad Shares Career Advice and Benefits of a Point Park Education
Friday, June 18, 2021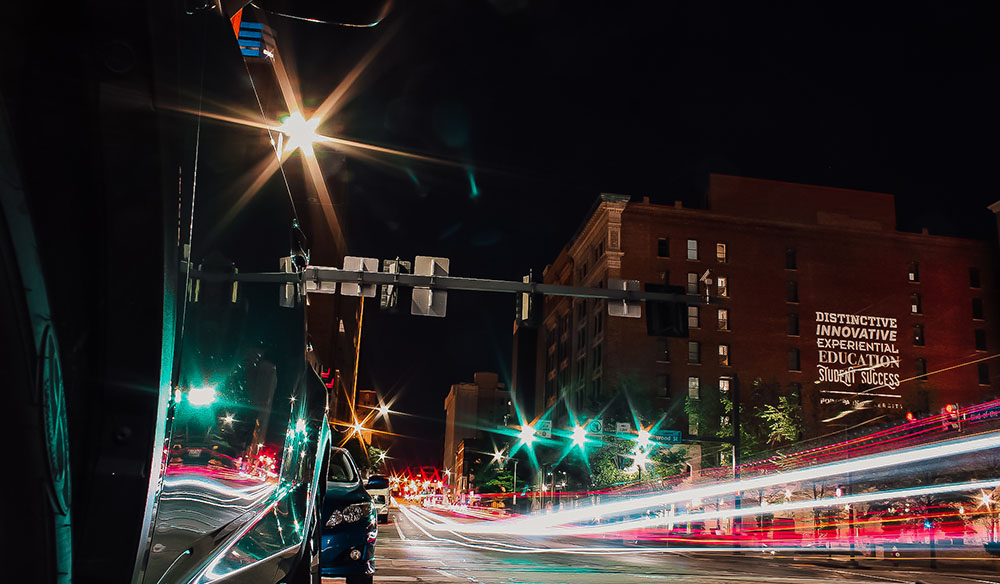 Photo by Nathaniel Holzer

, B.F.A. in screenwriting major
"The coursework and faculty at Point Park do a good job of exposing students to a broad range of concepts in national security work that introduced us to the different perspectives required by each career field."
2019 Intelligence and National Security Studies alum
Assistant Professor Sean Elliot Martin, Ph.D., says his favorite experience with his Intelligence program students is receiving a call or an email that says, "Hey, Doc, I just wanted to say thanks for everything. I can't tell you where I am or what I'm doing, but I couldn't have done it without you. Bye, I'll probably never see you again."
"That's actually the best that you can hope for with the intelligence community, you know," he said. "It means mission accomplished."
That's very much the case for a recent Intelligence and National Security Studies graduate. Speaking under the condition of anonymity due to the nature of their job, a 2019 alum now working as an intelligence specialist with the U.S. intelligence community shares their Point Park experience in the Q&A below. 
What attracted you to Point Park's Intelligence and National Security Studies program?
I first encountered Point Park's intelligence program at a college and career fair during my senior year in high school, and the program name stood out to me as unique and interesting. Accordingly, I decided to request a meeting with some of the faculty when I was searching for potential colleges to apply to and was very impressed with the combination of significant academic and also field experience displayed by the faculty. To work in the national security community, it is rarely sufficient to be either a scholar or a practitioner. It is best to be a combination of both. I realized early on that if I wanted a shot at working in the intelligence community, I would be well-served by learning from the scholar-practitioners I had met in Point Park's Intelligence faculty. 
How did the coursework and faculty prepare you for your career?
Very generally, depending on what sector of the intelligence community you work in, you may work at varying levels - tactical, operational, and strategic, for example. The coursework and faculty at Point Park do a good job of exposing students to a broad range of concepts in national security work that introduced us to the different perspectives required by each career field. Regardless of whether you fall on the tactical or strategic level, having that "big picture" mindset – how your specific work fits into the larger puzzle that is intelligence – is an invaluable understanding to have. I credit Point Park for giving me that understanding.
More specifically, Point Park's emphasis on quality intelligence report writing was hugely beneficial. The faculty are not joking when they say that a large part of intelligence work, whether you are operational or analytical, is writing-centric. The program does a fantastic job of preparing students to write in the very specific style used throughout the U.S. intelligence and national security community.
What makes Point Park's program unique from other universities?
The reason I chose to attend Point Park instead of any of the other universities that also offer intelligence-related education was due to Point Park's heavy focus on operations. Where many colleges with intelligence programs offer courses largely structured around the analytical work done in intelligence – which, to be fair, does represent the majority of jobs in the community – I felt that Point Park's comparatively heavier emphasis on field work and operations was more appropriate for the career path I hoped to follow.
Keep applying! Apply early and often. A lot of the time, agencies such as CIA and DIA will accept applications from rising seniors who are on track to graduate during that academic year. Take advantage of this. Since graduating, I have probably put in over 50 different applications to various employers, and I know people who have submitted even more before they finally found their ideal job. Don't be afraid to apply to even the most entry-level of jobs; you'll have a better chance at getting hired, and you'll get promoted quickly anyway. 
Is there anything else you would like to add? 
Don't fall in love with the idea of only working for one specific agency. For example, there are many entities out there who employ human intelligence specialists besides the CIA. It may just take some more time and effort to identify those other agencies as potential options. Do your best to obtain a security clearance. Active duty military is a great starting point, with opportunities to do real work in all of the intelligence-related career fields. Get your foot in the door, and never let up until you land in the job of your dreams. Never say no to a new job assignment or an opportunity, even if the location or the salary may be less than what you hoped for. Every time I've said yes, I ended up having a blast.
Learn more about Point Park faculty's approach to intelligence studies in the video below, featuring Sean Elliot Martin, Ph.D.
More About: intelligence and national security, alumni, faculty, success story, criminal justice, School of Arts and Sciences