more news
Interest in Engineering Prompts Pursuit of Degrees
Wednesday, September 14, 2011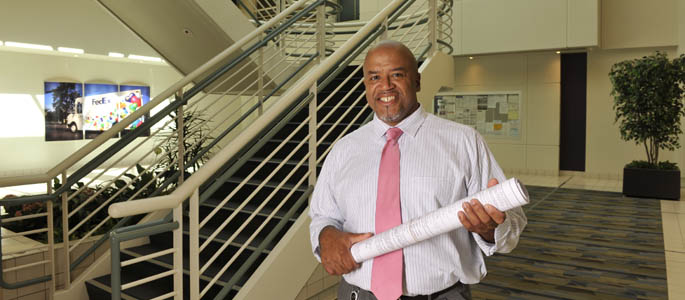 While working closely with engineering firms as a liaison for BASF Corporation, Chas Ainsworth began to develop a strong interest in construction and engineering. His interest grew so much that it inspired him to go back to school to pursue a Bachelor of Science degree in civil engineering technology.
"My parents always pushed education as a key to success," explained Ainsworth, who earned an associate's degree in chemical technology from the Bidwell Training Center in 1995. "I chose to study civil engineering technology at Point Park based on its diverse student population, transfer credit acceptance, flexible class schedule and student-to-instructor ratio."
According to John Kudlac, Ph.D., professor in the Department of Natural Sciences and Engineering Technology, some key advantages of Point Park's engineering technology programs are the hands-on, practical orientation toward the material that is taught and the small class sizes. Instructors not only get to know their students, but can work with them individually on their strengths and weaknesses, explained Kudlac.
"When I had Chas in class, he was very hardworking and put a lot of time into the program while he worked full time," said Kudlac. "He was very amiable and enthusiastic about the areas he studied."

After graduating from Point Park in 2006 with his bachelor's degree, Ainsworth landed a position directly in his field-as a civil structural design engineer with a small engineering consulting company.
As Ainsworth's career developed, he moved on to the position of facility project management engineer with Pittsburgh-based FedEx Ground.

"I was searching for a position within a larger corporation that would provide greater opportunities for career growth," he explained.
In the role of facility project management engineer, Ainsworth is responsible for implementing capital improvement projects to support FedEx's field operations. His job takes him throughout the U.S. and Canada working with FedEx Ground's various engineering departments on design, information technology, material handling and automation.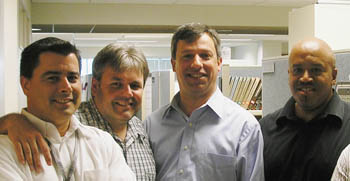 Pictured with Ainsworth (far right) are four Point Park engineering
technology alumni who work for FedEx Ground. Left to right: Gene
Price, Dean Bonenberger, and Bill Paoleschi.

While working full time for FedEx Ground, Ainsworth returned to Point Park and earned a Master of Science degree in engineering management in 2010.
"I plan to use my master's degree to the fullest. My goal is to combine what I've learned in the classroom with my people skills to be in a manager position within the next five years," he said.

According to Kudlac, what distinguishes Point Park from many other engineering programs is that most of the students work full time and are completing their degrees by going to class on evenings and Saturdays.

According to Ainsworth, he has been "touting Point Park" to his FedEx Ground co-workers as an option for continuing their education while working full time.

"I am happy to say that three of my colleagues — Joe Kanyuch, Rebecca Vermeulen and Sheena Kramer — are currently seeking their Bachelor of Science degrees in engineering technology at Point Park," remarked Ainsworth. "Most definitely, my bachelor's degree in civil engineering technology was the catalyst that I needed to embark in the engineering field," he added.
More About: civil engineering technology, success story, alumni, M.S. in engineering management, engineering technology, graduate programs