more news
Internship Leads to Position at Westinghouse for Veteran and Electrical Engineering Technology Alum
Friday, March 2, 2012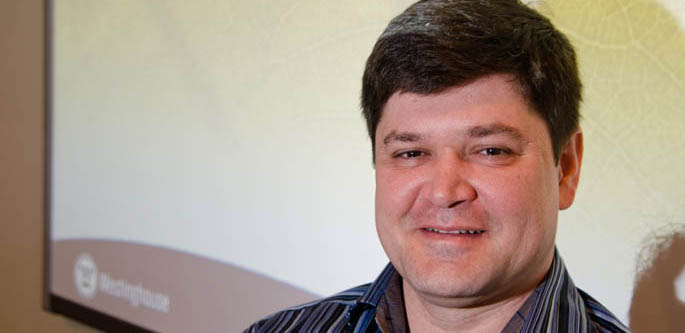 Meet Vasilii Savtchouk
Job title: Electrical Engineer
Employer: Westinghouse Electric Company LLC
Degree earned: B.S. in electrical engineering technology
Graduation year: 2011
Currently pursuing: Master of Science in engineering management
Hometown: Dnepropetrovsk, Ukraine
Now living in: Upper St. Clair, Pa.
How did you land your current position at Westinghouse?
While taking classes at Point Park, Professor Robert Draper informed me that one of Point Park's engineering technology adjunct professors, Secil Ozmen, was looking to hire electrical engineering interns at Westinghouse. I applied and was one of two selected from a whole list of applicants. A little over two months into the internship, I was offered a regular position at Westinghouse that would begin as soon as I graduated.
What inspired you to study electrical engineering technology?
My father was an electrical engineer in the Ukraine. Electrical engineering always appealed to me. After serving in the United States Marine Corps for several years I decided to get my degree in that area.
Why did you choose Point Park?
My veteran benefits allowed me to go to any school of my choice as long as I completed a degree within 48 months. (Savtchouk ended up completing his degree in 36 months while interning full time at Westinghouse.) However, the small class sizes at Point Park really appealed to me. I was impressed with the faculty-to-student ratio and how 12 is the maximum number of students in an engineering technology class. I wanted to get the most out of my education and know what I needed to know.
How would you describe Point Park's engineering technology professors?
Knowledgeable and experienced. They are not just professors with degrees. Everyone I came into contact with could relate their teaching to their real-world working experiences in the engineering field.
What are some of your future career goals?
I'd like to be promoted to a senior engineer position at Westinghouse. Also, starting in the fall semester, I will be back at Point Park pursuing a Master of Science degree in engineering management. I'd like to complete the degree in a year to a year and a half.
In your opinion, what does it take to succeed in electrical engineering?
Do everything that needs to be done and more. Don't settle for the bare minimum or you will get mediocre results. Strive to do the absolute best with your work.
More About: electrical engineering technology, internships, alumni, veterans, M.S. in engineering management, engineering technology, graduate programs