more news
Literary Arts Department Hosting Gothically-Influenced Poet Annah Browning March 26
Tuesday, March 20, 2018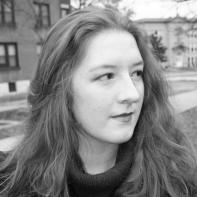 Poet Annah Browning, Ph.D., will share her poetry with students Monday, March 26, from 6 to 7 p.m. in the University Center's GRW Theatre as part of the Point Park University Writers' Series, hosted by the Department of Literary Arts.
The event is free and open to the public.
Browning will read from her manuscript Witch Doctrine, a collection of gothically-influenced persona poems, written in the voices of a cast of folkloric and literary figures: witches, ghosts and so-called "madwomen" who struggle with life outside of hegemonic norms.
Witch Doctrine was a finalist for the University of Akron Prize, Indiana Review's Blue Light Books prize and the Anhinga Press-Robert Dana Prize for poetry. 

Browning recently spoke with Assistant Professor of Literary Arts Chris Girman, Ph.D., about her poetry.
What are some of the influences on your poetry?
My poems have been influenced by poets in the Gothic tradition, in particular Samuel Taylor Coleridge and Emily Dickinson, as well as by the gothic fiction of authors such as Shirley Jackson. I have also been influenced by language and rhetorical cadences of the King James Bible from my childhood in rural South Carolina, and by the speaking patterns of that part of the world in general. 
What has been the response to some of your witchy and weird poetry?
The poems keep finding homes in literary magazines so I suppose there are folks out there who are receiving them well! I think I am part of a growing trend in contemporary American poetry right now to go back to the directives of the spell and a feminist interpretation of the figure of the witch, so being part of that groundswell has been great and very interesting, for sure. I want people to be unsettled and moved by my poems, and possibly to have some dark, dry laughs. Every time someone comes up to me after a reading to tell me that something I read gave them the creeps or touched them, I feel honored and delighted.   
What can attendees expect 
Monday

 night? 

Attendees can expect to hear poems written in the voices of murderous witches, lonesome ghosts and exhausted spirit mediums, as well as the reading of spells for various life occasions. I will almost certainly crack deadpan jokes, and perhaps a couple of them will land. 
Learn More
Meet the literary arts faculty and explore the creative writing and English majors at Point Park University. 
Request information, schedule a campus visit or apply now.
More About: student workshop, English, Department of Literary Arts, creative writing, School of Arts and Sciences, Point Park Writers Series