more news
Literary Arts Instructor Abby Mendelson is Paying It Forward with His New Book
Friday, June 25, 2021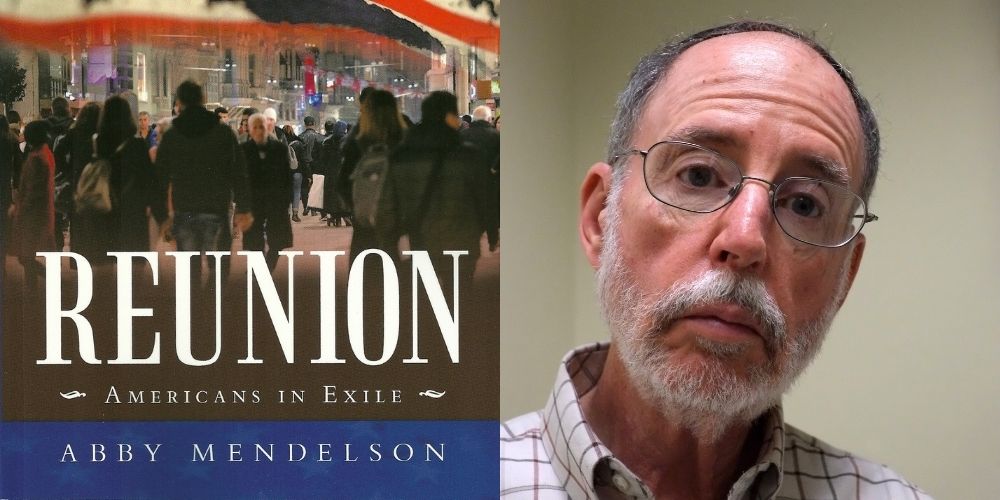 Part-time instructor Abby Mendelson recently self-published, "Reunion: Americans in Exile." He is donating its proceeds to the Greater Pittsburgh Community Food Bank. 
"Exercise the better angels of your nature. If we can collectively tap into that goodness, we can help save the world, or at least make it a better place."
Abby Mendelson, part-time instructor, Department of Literary Arts and Social Justice
Literary arts instructor Abby Mendelson's latest publication, "Reunion: Americans in Exile," examines the lives of Americans coping with various types of pain in a collection of 16 stories, most of which are tied together with one philanthropic thread. 
"Virtually every story has someone trying to make things better for someone else," he said. "Almost all of these folks in these stories are working so hard, sometimes at their risk of their lives, careers and health, to try and help somebody else. It's a very human impulse, I think, and also a reflection of our times."
Mendelson lost three friends and an acquaintance to COVID-19. As he worked on "Reunion," he felt inspired to help others during this challenging chapter. 
"These characters are working hard to help somebody else," he said. "How can I help somebody else? And the little light bulb went off: Give the book to the food bank."
Mendelson is donating all proceeds from his new book to the Greater Pittsburgh Community Food Bank.
"To be able to help other human beings means the world to me," he said. "In this very dark, difficult time, the food bank seemed the perfect place."
In the Q&A below, learn more about Mendelson as an author and instructor.  
What is "Reunion" about?
"Reunion" chronicles the lives of Americans torn from their places and their pasts. Set in a wide variety of locales – England to Hawaii, Venice to Vietnam, Park Slope to Prague, Block Island to Hoonah, Alaska – the stories go where Americans find themselves searching for connection, coping with aging and loss. Military men and missing persons, foreign service officers and fashion models, friends and lovers, grief groups and high school reunions, it is a series of portraits of characters and concerns, living and dying, present and past. People wrestling with the concerns of age and of our age. People living on edges, seeking to return, yearning for reunion. 
In every way possible, in every way that it fits, I try to bring a realistic, real-world experience to what I'm teaching. I try to make students aware of what is going on in the publishing industry and help them understand that the changes and pitfalls are enormous. The publishing industry changes every minute. I make them all aware of that. 
What do you want prospective students to know about your teaching style?
First, every one of my courses is about independent thinking. Literature always returns us to life, and I desperately want the students to think about what is happening in the literature and how it reflects on life. The more personal they make it, the better.  Second, I prefer discussion. I don't want to hear what I have to say. I want to hear what they have to say. As part of that, I always say, as a rule, that there's no single right interpretation. Instead, there's a spectrum of valid interpretations. Third, in each and every class, we look at the texts. It is vitally important to discuss and interpret the actual words.
What do you hope to teach students through your new book?
Do something for somebody else. It's enormously important. Do something hands-on that makes a difference. Spend a few hours a week working at the food bank, the Red Cross or for literacy. There are a thousand projects in Pittsburgh where you can help someone. Deliver for Meals on Wheels. Do something where you're going to help someone face to face, and make their life better. 
My courses are always about thinking. In every book, poem, play, short story or novel I teach, there is always a spectrum of moral, intellectual choices to be made. Choose whatever you want to choose, but think through the issues. Think through the humanity and heart. Literature with a capital L always brings you back to life, and life involves choice, morality and responsibility. Think through who you want to be and the choices that you make. 
Exercise the better angels of your nature. If we can collectively tap into that goodness, we can help save the world, or at least make it a better place. 
"Reunion: Americans in Exile" is available for purchase online. 
More About: Department of Literary Arts, School of Arts and Sciences, creative writing, English, faculty