more news
Literary Arts Professor Authors Harrowing, Bittersweet Novel About Two Sisters and Their Struggles with Mental Health
Friday, September 7, 2018
Barbara Barrow, Ph.D., assistant professor of English in the Department of Literary Arts and Social Justice at Point Park University, recently authored The Quelling, a novel about two sisters — Addie and Dorian — who were accused of murder when they were very young and now decide they want to raise a child together.
Both diagnosed with a rare psychiatric condition, the sisters are under the care of a doctor who uses them for his strange and transgressive cures.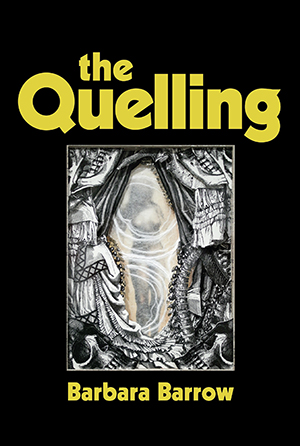 "The plot hinges on the tension between their wills and the doctor's. A good friend describes the book as a 'feminist Clockwork Orange,' and I think this sums up a lot of the novel's themes and concerns," Barrow explained.
Barrow was inspired to write the book based on her passion for gothic novels as well as the experiences she had with her late father, a talented musician, taxi driver and storyteller who was diagnosed with schizophrenia. 
"My father passed away in 2014, shortly before I undertook the major revisions and re-draftings of this book. The last time I saw him he had read the opening pages of the manuscript and encouraged me to finish it," Barrow said.
"I didn't realize it at the time, but I think that creating Addie and Dorian, two young women characters struggling with mental health, was a way for me to empathize with what my father was experiencing, and to try and understand why he was so resistant to treatment," she added.
Through her experiences writing this book, Barrow hopes to teach her Point Park students that all writing is a process whether you're writing a novel, an academic essay, a literary analysis or anything else.
"Writing this book has really taught me how to see a project through multiple drafts and revisions and to be patient with the inevitable setbacks and dead ends. I hope I can teach my students the importance of this," Barrow said.
Barrow is a Victorian Studies scholar and a fiction writer who came to Point Park in 2014. Her short fiction has appeared or is forthcoming in Cimarron Review, The Forge Literary Magazine, Folio, and elsewhere, and her journal articles have appeared in Victorian Poetry, Journal of Victorian Culture, Victorian Periodicals Review and Nineteenth-Century Contexts.
A launch party for The Quelling will be held Oct. 5 from 7 to 9 p.m. at Colony Café in Pittsburgh's Strip District. The event is free and open to the public. 
Barrow will also be making appearances at the Brooklyn Book Festival, on PCTV 21's "Shelf Life" series and in bookstores in Pittsburgh, Philadelphia and nearby cities. Learn more about Barrow's upcoming book events and view The Quelling on Goodreads.
More About: faculty, School of Arts and Sciences, Department of Literary Arts