more news
M.A. Clinical-Community Psych Grads Named Editors
Friday, July 1, 2016
Point Park University M.A. in clinical-community psychology graduates Justin Karter and Kevin Gallagher, along with Andrew Bland, Ph.D., were recently named editors of the American Psychological Association's Society for Humanistic Psychology Newsletter.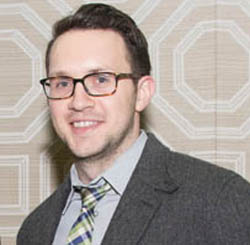 Karter
In the article "From the new editors: Les Temps Modernes, Karter, Gallagher and Bland wrote: "We, the new editors, recognize that recent developments in social and political events call on humanistically trained academics and practitioners to redouble their engagement with the world … we seek to renew this position, and we want to encourage members to draw on their unique philosophical and psychological training and turn their minds and pens toward the world."
"Justin and Kevin were among the first cohort of students in our master's program in clinical-community psychology. When I became president of the Society for Humanistic Psychology, Division 32 of the American Psychological Association, I was able to appoint Justin and Kevin to be student representatives on the executive board," explained Brent Robbins, Ph.D., associate professor of psychology and chair of the Department of Humanities and Social Sciences.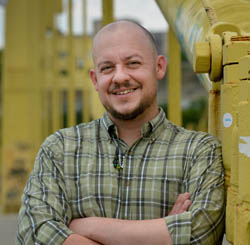 Gallagher
"They are very smart and socially conscientious individuals with an incredible depth of knowledge in their areas of interest. Many board members told me how impressed they were by our students," remarked Robbins. "They really make me proud."
The Society for Humanistic Psychology seeks to contribute to psychotherapy, education, theory, research, epistemological diversity, cultural diversity, organization, management, social responsibility and change. In particular, the society has been at the forefront in the development of qualitative research methodologies.
Robbins added: "It is quite extraordinary for two young people to get the responsibility of editorship of a Division of APA newsletter right out of graduate school. I think this is a testimony to the strength of character demonstrated by Justin and Kevin, and it also speaks to the high quality education that students receive in our graduate program, which certainly does prepare students to take on prestigious opportunities such as this."
Learn More
Point Park University offers a Bachelor of Arts in psychology (with concentrations in clinical, child, community and forensic psychology), a Master of Arts in clinical-community psychology, and beginning fall 2017, a Psy.D. degree in clinical-community psychology.
More About: alumni, M.A. in clinical-community psychology, graduate programs, Department of Humanities and Human Sciences, psychology