more news
COVID-19 Motivates Biological Sciences Senior to Intern at Concordia of the South Hills
Student Profile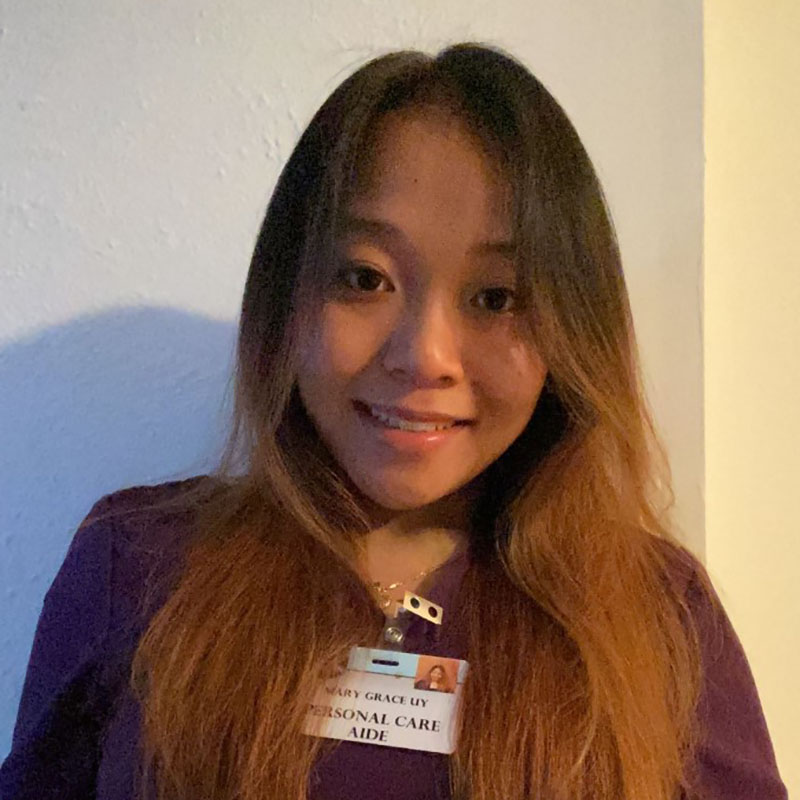 Meet Mary Grace Uy '21
Job Title & Employer

Private care aide intern, Concordia of the South Hills

Major

Biological Sciences

Hometown

Pagadian City, Philippines 

High School

Obama Academy of International Studies 

Now Living In

Pittsburgh, Pa.
"I saw that COVID-19 was running rampant, and I wanted to be helpful in some way. I saw that the health care field was in dire need of assistance, and I decided to take initiative."
Mary Grace Uy '21
What drew you to your internship at Concordia of the South Hills?
I wanted to immerse myself in the unpredictability of health care. I wanted to truly experience what it was like to care for people. My
internship
required me to get to know my clients on a personal level and learn their individual needs and routines. The job was not limited to physical labors but extended to emotional labor. I found that a few of my clients were battling anxiety, depression and paranoia. There were times when I had to find ways to eliminate toxic thoughts from their minds, to convince them that life is still worth experiencing. 
What have you learned from the experience?
During my time at Concordia, I have been taking monthly training courses on
Elsevier
. I have also learned how to refill oxygen tanks, take blood pressure, use a patient lift and so much more. I have even assisted in passive exercises for therapy and learned how to step back when I know my client is capable. I have been present during physical therapy and occupational therapy visits. I try to encourage them to regain their confidence while simultaneously providing a safety net. My days are very unpredictable, and I must have the ability to adapt and respond to those circumstances.
COVID-19 has kept many of us at a distance from others, but you chose to work directly with more vulnerable individuals. What made you want to help?
I saw that COVID-19 was running rampant, and I wanted to be helpful in some way. I saw that the health care field was in dire need of assistance, and I decided to take initiative. I was very nervous during my first day as a private care aide. I had no prior experience in this department, and I was afraid that I was unprepared for what the job entailed.

I learned that each time I walked through the doors, my clients needed me to be my best self. I needed to bring the sunshine to motivate them through their daily challenges. I wanted to give them comfort in knowing they had someone they can depend on to tackle challenges they had no energy or confidence in facing. COVID-19 was especially challenging to my clients because they could not see their family or interact with the other residents. I learned there is power in positive interactions. 


Why did you choose Point Park?
I chose Point Park because they offered me a great
scholarship
. I only had to pay for my books, housing and other expenses. I have been working two jobs since I was 16 years old. I had to be very practical in order to get a college education without burying myself in debt. 
I like the biological sciences program because it is very engaging and intimate. I wanted to attend a small school for this reason. I was also very thankful that my advisors encouraged me to switch my major from
pre-med
to biological sciences. Now I have more options than just going to medical school. 
What are your career goals?
I am currently unsure about my career goals, however, my internship experience confirmed that I want to be in the medical field. I initially wanted to be a general practitioner. I would like to explore physical therapy. My next step is to attend medical school. 
More About: biology, faculty, internships, scholarships, School of Arts and Sciences, success story