more news
Master Classes Connect Students to Nationally Recognized Writers
Monday, April 22, 2013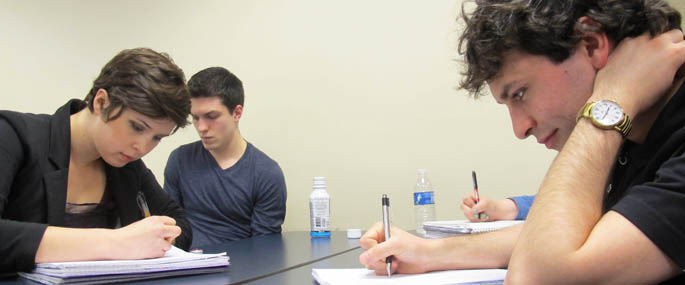 As part of the Point Park University Writers' Series, students recently had the unique opportunity to enhance their creative writing skills through master classes taught by award-winning poet Eduardo Corral and playwright/fiction writer Ivan Rodden.
"Events like this are extremely important to me as a young writer because I feel like I'm still getting my 'sea legs' as a writer. Taking in these workshops is a great opportunity to absorb all the information and tips that I can when it comes to creative writing," said Jesse Pardee, a junior musical theater major and English minor.
The two master classes taught by the seasoned writers varied in style. Corral led a roundtable discussion with students on ways they can find inspiration to write creatively while Rodden gave a lesson in character development and tips for compressing one's writing.
"Find different ways of viewing the world, challenge yourself as a writer and break out of your comfort zone. Dwell on language and always speak it before you sing it," advised Corral. "And carry your own lines of poetry with you," he added.
Corral also encouraged students to be citizens of the literary world. "Read as much as you can. Remember, you're a reader before a writer," he said.
In his master class, Rodden encouraged students to develop extensive word banks for their writing and asked students to come up with at least 30 nouns and verbs to match the magazine picture they selected.
"My favorite part of the master class with Ivan was the visual elements he brought into the exercise. It's always nice to have another tool to use when working on these kinds of creative projects," remarked Julianna Bagwell, a senior English/creative writing major.
Rodden also gave students exercises for trimming their writing. "Dig a little deeper to push that word to be more specific. We want to compress the emotions, actions and feelings of our words so our writing is more efficient and carries more meaning."
According to Sarah Perrier, Ph.D., assistant professor of English, the master classes have become a centerpiece of the English/creative writing program. "I've been very happy to have been so fortunate in our slate of writers. They've enriched the program by sharing their craft, their insight and their talent."
More About: Department of Humanities and Human Sciences, master class, student workshop, English, Point Park Writers Series, creative writing