more news
Master of Science in Environmental Studies Program Growing at Point Park
Wednesday, September 18, 2013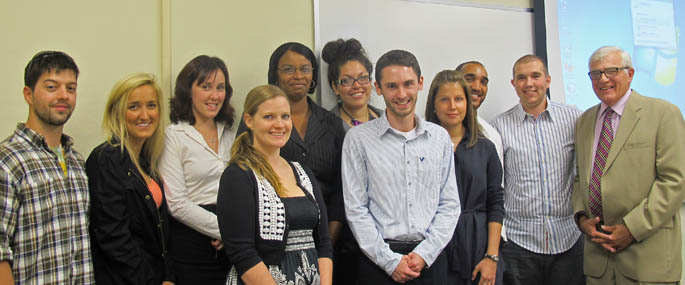 Graduate program director John Kudlac, Ph.D., (far right), is pictured with students from this year's MSES graduate class.
Students Present Their Research at Fourth Annual Graduate Seminar
As part of Point Park's environmental studies graduate program, students presented individual research projects on topics ranging from brownfield revitalization and water scarcity to environmental health and the effects of pesticide contamination on biodiversity at the program's fourth annual graduate student seminar.

With 14 students, this year's class is the largest to date for the program, which is going into its fifth year. Unique to the Pittsburgh area, the M.S.E.S. program at Point Park provides students with an interdisciplinary approach to understanding the complex nature of environmental problems and their solutions. Offered in an accelerated format, the M.S.E.S. program allows students to complete their master's degree in as little as 11 months.
"All of the classes I have taken so far have offered unique views to environmental issues," remarked M.S.E.S. student Amanda Love, an environmental scientist at Moody and Associates, Inc.

"I'm a working professional and I hope this degree will help me gain more advancement opportunities at my current job and future jobs," added Love, who will graduate with her M.S. degree in December.
2013 M.S.E.S. graduate Barbara Snowden, manager of fuels and the lubrication/CMS laboratory at Clark Testing, also earned her bachelor's degree in health services from Point Park. According to Snowden, the M.S.E.S. program was a natural extension to furthering her education.
Recent M.S.E.S. graduates Matt Miles and Thomas Sheppard chose the program to expand their knowledge and job opportunities within the environmental field.
Miles said: "I chose this degree program because environmental issues are something I'm passionate about."
"I would like to help protect the environments within cities more efficiently," said Sheppard.
Admission to the M.S.E.S. program requires a bachelor's degree in any discipline from an accredited institution and a minimum of nine credits of previous science course work, either as part of or in addition to the bachelor's degree.
For more information, visit the Master of Science in environmental studies program page or contact the Graduate and Adult Enrollment Office at 412-392-3808 or ptenroll@pointpark.edu.
2013 Research Presentation Topics
"An Overview of Integrated Conservation and Development Programs"
"Brownfield Re-Development: Sustainable Leap or Flop?
"Brownfield Revitalization: An Environmental Success Story?"
"Freshening of the North Atlantic Ocean"
"Homes, Communities and Environmental Health"
"Paddlefish Migratory Dam Passage Feasibility in Pittsburgh's Three Rivers"
"Residential Energy Consumption and Feedback Mechanisms"
"Stray Methane Gas Emissions from Marcellus Shale Drilling"
"The Effects of Pesticide Contamination and Biodiversity"
"Urban Heat Island Effect"
"Water Scarcity: Exploring Solutions to a Complex Issue"
More About: M.S. in environmental studies, graduate programs, student presentations