more news
Mechanical Engineering Technology Alum Lands His Dream Job Right After Graduation
Thursday, November 1, 2012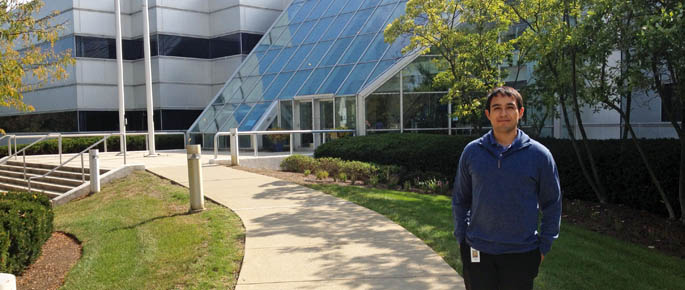 Meet Alan Young
Job title: Pipeline Integrity Engineer
Employer: Det Norske Veritas
Degree: Bachelor of Science in Mechanical Engineering Technology
Graduated: May 2012
Interests/Hobbies: Guitar, biking, 3D modeling
High School: Keystone Oaks High School
Hometown: Pittsburgh, Pa.
Now living in: Columbus, Ohio
What attracted you to the field of engineering?
I have always been interested in how things work. From a young age, I would take every toy I received apart to get at its inner workings. It would drive my parents nuts. The field of engineering is a natural extension of my curiosity.
Why did you choose Point Park to study mechanical engineering technology?
In high school, I attended Point Park's "Summer In the City" program with my brother. I fondly remember the classes with Professor Robert Draper and lab associate Mike Kruth on topics ranging from aerodynamics to fuel cells. When looking to go to school in Pittsburgh, I was won over by Point Park's excellent faculty and small class sizes.
How did you land your current position as a pipeline integrity engineer?
I began my search a month before graduation and had tremendous responses to the skill set the mechanical engineering technology curriculum provided me. Employers found that the engineering training was very rigorous and thorough, in particular the superb MET courses by Professors Daniel Reed, Robert Draper and the AC/DC courses by Professor Don Keller. I saved my class work and made a portfolio that I brought with me to interviews. The portfolio provided concrete evidence that I was a viable candidate for these positions.
How has Point Park helped you reach your career goals?
Point Park was integral in helping me land my dream job with a really dynamic company. With the solid mechanical engineering education I received, I was a competitive player in a very tight job market. I believe engineering class work does not lend itself to big 300-person classrooms. Point Park's small class sizes helped me get to know my professors and learn the material extremely well.
What advice do you have for our engineering technology students?
Save your work! Employers love it when you show them what you can do instead of just summarizing it on a resume. Also, take the FE exam very seriously, as this is a good secondary way to demonstrate to employers what you know. Finally, be sure to take advantage of Point Park's Program for Academic Success, one of the best of its kind anywhere, as well as the Career Development Center. It's never too early or late to get started.
Is there anything else you'd like to add?
A huge thanks to everyone in the Department of Natural Sciences and Engineering Technology for supporting me. Also, thank you to Leslie Fronzcak in the Program for Academic Success and Santina Frazer in the Career Development Center for making my resume job-search ready.
Photo by Joel Kaufman
More About: Keystone Oaks High School, success story, mechanical engineering technology, alumni, engineering technology