more news
Phillip Gertz '16 is a Systems Integration and Test Engineer Working on NASA's Orion Crew Module
Alumni Profile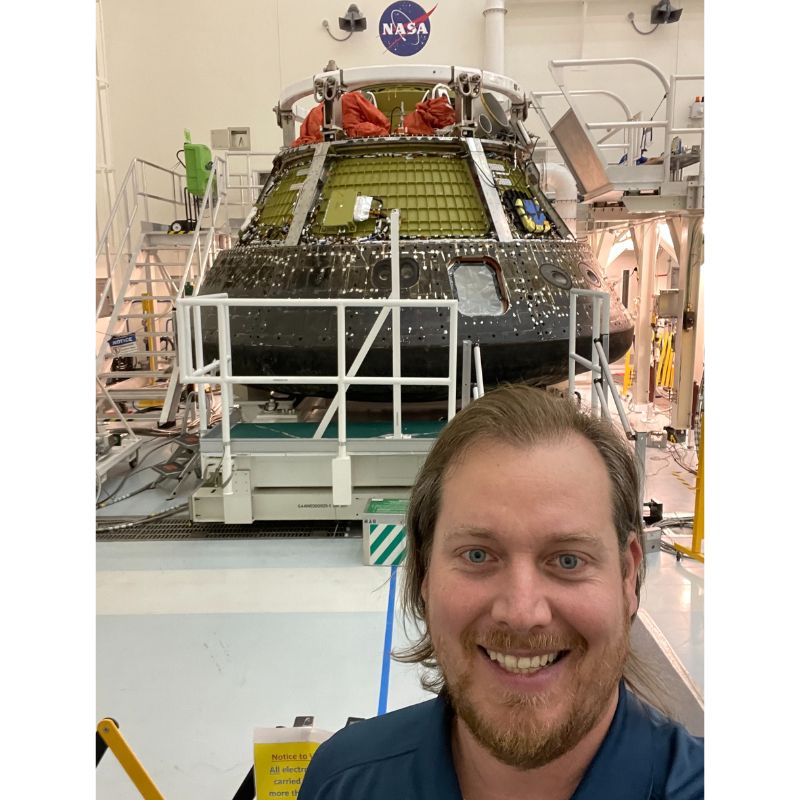 Phillip Gertz '16 snapped a selfie with the Orion crew module at a press event following its successful unmanned flight around the Moon for NASA's Artemis I mission.
Meet Phillip Gertz '16
Job Title & Employer

Systems Integration and Test Engineer, Lockheed Martin Space

Major

Mechanical Engineering Technology

Minor

Mathematics

Hometown

Clinton, Pa.

High School

West Allegheny High School

Now Living In

Merritt Island, Fla.

Hobbies & Interests

Private pilot, kayaking, golf, biking and hiking
"Point Park prepared me for my career by allowing me to focus on truly learning and applying course concepts instead of just answering questions on a test."
Phillip Gertz '16
Why did you choose Point Park University?
I actually attended Point Park twice. I started my degree at another university for architectural and civil engineering. During my freshman year, my mother passed away, and the difficulties of living alone at a young age and managing school costs caused me to look at options closer to home. As I researched schools, I found that Point Park offered a flexible schedule that allowed me to work during the day and take classes in the evenings. I enrolled in the civil engineering technology program, but for financial reasons, I later joined the U.S. Air Force as an aircraft mechanic on the F-22 Raptor. After leaving the Air Force, I knew I wanted to finish my degree, and I realized my true passion was based in mechanics. I re-enrolled at Point Park to study mechanical engineering technology (now mechanical engineering) because I enjoyed the smaller class sizes, the ability to meet one-on-one with professors and the flexible schedule.
How did Point Park prepare you for career success?
Point Park prepared me for my career by allowing me to focus on truly learning and applying course concepts instead of just answering questions on a test. The small class sizes make it easier to seek extra help from your professors if you don't understand something. Everyone learns a little differently, and I encourage students to utilize the many resources available at the University.  
Tell us about the work you've done since graduating from Point Park.
Upon graduation, I worked as a consulting engineer for building mechanical systems and part-time as adjunct faculty for Point Park. I then moved into manufacturing engineering, working in titanium aerospace manufacturing as a forging engineer. After that, I went to work on full-cycle design, analysis, manufacturing, integration and launch support for sub-orbital sounding rockets. Today I am a systems integration and test engineer for Lockheed Martin's space division. 
Describe your current role and what you enjoy about it.
I am responsible for the planning, preparation and execution of mechanical systems integration on NASA's Orion crew module. The Orion crew module is the manned spacecraft that will be used on the Artemis missions to launch into space and carry astronauts to and from the Moon and return them safely to Earth. I am responsible for interpreting the engineering drawing requirements and developing fabrication plans to allow the technicians to successfully build the spacecraft in accordance with NASA and other governmental standards. 
I enjoy working in a hands-on environment with the technicians to figure out how this spacecraft goes together, all the small details and nuances. The Orion crew module is an incredible piece of engineering that uses lessons and tools learned from NASA's Apollo and space shuttle programs. Being on the front line of such an exciting program is truly a dream come true. It is so amazing to help make history and to do so from the historic Kennedy Space Center. 
Which Point Park professors had a significant impact on you?
Robert Draper and Matt Pascal helped me throughout my time at Point Park and after graduation as mentors and colleagues. Additionally, Robert Garson and Daniel Reed have also been there for me and have always offered an open door for me to stop by and pop my head in to ask questions or just chat. As adjunct faculty at the University, I was fortunate to teach alongside Peter Kohnke, who was also a fantastic mentor and colleague. I'd also like to give some credit to Emily Quidetto from the Center for Student Success, who was very helpful during my time at Point Park. I had really positive experiences at Point Park and made lifelong friends and mentors. It got me to where I am today.
What advice do you have for current engineering students?
First, ask questions. Be curious. If you don't understand something, stay after class and ask about it. Understanding why you are doing something is sometimes just as important as what you are doing. That is a skill that I honed while at Point Park, and I suggest all students do that. This doesn't just apply to asking faculty. Ask other students or a coworker because you never know where that moment of understanding can come from to make that tough topic click. 
Second, set a goal and go for it. That goal can move or adapt over time, but find out what you want and go for it. Even if you don't get there at first, keep working toward it. Apply this mindset to your coursework and your post-graduation pursuits.
Why would you recommend Point Park's mechanical engineering program to a prospective student?
Point Park's program is unique in that even as a working professional, you have the ability to further your career goals outside of the standard hours that most colleges have. The smaller class sizes keep you from getting lost in a sea of other students and create an environment where you can ask questions and really learn the course concepts.  
Learn more about Point Park's engineering programs in the video below:
Connect with Phillip Gertz '16
More About: West Allegheny High School, faculty, success story, School of Arts and Sciences, mechanical engineering, mathematics, alumni