more news
Meet Alum Graham Ferry, Civil Engineering Project Manager
Wednesday, August 24, 2011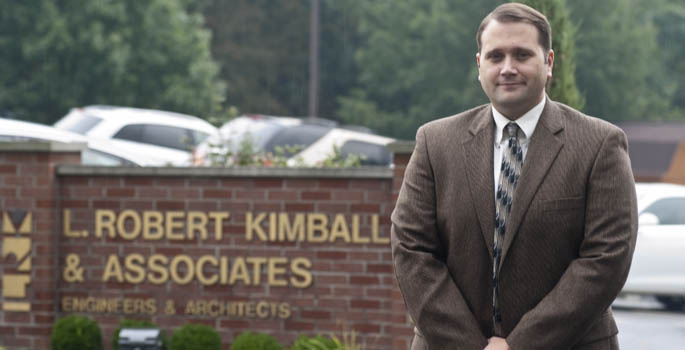 Meet Graham Ferry
Job title and employer: Graham Ferry, Civil Engineering Project Manager
Degrees earned: Bachelor of Science in civil engineering technology; Master of Science in engineering management
Graduation years: B.S. in 2002 and M.S. in 2004
Hometown: Quecreek, Pa.
Now living in: Beaver Falls, Pa.
What inspired you to study civil engineering technology?
As far back as I can remember, I was always taking things apart and trying to reassemble them properly. As time went on, I found myself having an interest in how larger items and elements functioned as a whole and was enamored with construction sites and projects, as well as the equipment that was used to produce such massive structures. I actually began my career as a draftsman 17 years ago trying to gain an overall understanding of the complex nature of different engineering elements. All of those factors, combined with my overall interest in science and mathematics, made civil engineering a strong fit as a career choice.
Why did you decide to continue your education and get your master's degree in engineering management?
I realized early on that if I wanted to advance my career in engineering, at some point I would eventually need additional skills beyond the technical ones I obtained while studying for my bachelor's degree. I would need business and management skills that would allow me to excel and progress in my career. The study of engineering management not only provided me with a solid foundation in business, but with a direct correlation to the engineering profession. The engineering management program at Point Park was in essence a type of M.B.A., but one that related directly to engineering and the business of engineering.
What made you choose Point Park for both your bachelor's and master's degrees?
I chose Point Park for a number of reasons. I found the class sizes and student-to-faculty ratios to be very attractive. I knew that I would have easy access to my professors and that I would continue to see a lot of familiar faces as I navigated my way towards my degrees. I felt like I would be more than a number when I walked into a classroom and that interaction with my classmates would be very easy to achieve. I also chose Point Park because of the flexibility in class scheduling that it offered. Being employed full time, I was not a traditional college student and I knew I would need the ability to attend classes on weekends and during the evenings.
How did you land your current job?
I acquired a position at my current firm in 1996. Due to my ability with, and my understanding of three-dimensional drafting, I was a good fit for a very large project that was going on at the time. It was during that time that I made the decision to extend my education beyond my two associate degrees and pursue a full-time career in civil engineering. My company was very supportive of my desire to excel in my career, and they assisted me greatly when I enrolled at Point Park and throughout my journey there. Based on the training and education I received at Point Park, I have grown from the position of draftsman to that of civil engineering project manager.
What are some of your key responsibilities as project manager?
As a project manager, I am responsible for the oversight and management of a project from inception to completion and delivery. In most instances, I compose the business proposal for the client, which includes the scope of work we intend to complete, the fee to do so and the contractual language to form a legal agreement. Once an agreement is reached with the client, I am responsible for overseeing the completion of the project from both technical and administrative standpoints.
What was your favorite experience at Point Park?
My favorite experience at Point Park was the constant interaction with professors and students. Point Park's small class size allows you to build bonds and friendships with everyone you encounter during your time there. I would not trade my experience at Point Park for anything.
In your opinion, what does it take to succeed in civil engineering?
Civil engineering is something a person has to want to do. It is not something that one can simply straddle the fence on and be successful. A civil engineer truly needs to jump right in and be willing to perform a number of tasks. He or she needs to be flexible and quick to learn but also willing to listen and learn from more experienced staff. This can only be accomplished over time, in a comfortable and supportive atmosphere. Besides those items, of course there is a need for the technical abilities and understanding of mathematics and science that go hand in hand with civil engineering. While technical skills were the only skills a civil engineer once needed, many new skills such as writing, communications and finance are also beneficial to the aspiring engineer.
More About: success story, engineering technology, M.S. in engineering management, alumni, civil engineering technology