more news
Meet Alumna Jasmin Hain, Fourth Grade Teacher
Wednesday, November 28, 2012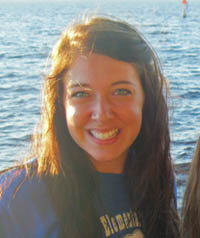 Meet Jasmin Hain
Degree earned: Bachelor of Arts in Elementary Education
Graduated: May 2012
College activities: Residence Hall Association, Point Park Cheerleading Squad
Hometown: Hamburg, Pa.
High School: Hamburg Area High School
Now living in: Port Charlotte, Fla.
Hobbies/interests: Photography, reading, shopping, and going to the beach
Why did you decide to major in education?
I've always wanted to be a teacher, but when I first attended Point Park, my major was photography. After about a month or two at school, I decided that photography wasn't what I wanted to do the rest of my life so I made the switch to elementary education. I knew right away that I made the best decision. Teaching is one of the most gratifying careers you can have. All the hard work you put into your lesson planning and teaching is evident when your students discover something new. An excited student is the best feeling in the world! There is nowhere else I'd rather be than in the classroom!
What factors made you choose Point Park?
Point Park's photography program is originally what brought me there. However, after changing majors I still liked Point Park and wanted to stay. I liked the city atmosphere, yet I never felt overwhelmed or unsafe in Downtown Pittsburgh. I liked Point Park's small, intimate classes and the personable professors. I'm glad I stayed because I gained a lot of unique experiences at Point Park.
What have you enjoyed most about teaching fourth grade?
The moments I enjoy the most are when my students and I are really having a connection. Whether they're excited over something we're doing, really understanding a lesson I'm teaching or if we're all just sharing casual conversation at the end of the day, it's moments like those that make everything I do worthwhile.
More About: alumni, success story, Hamburg Area High School, education, elementary education