more news
Meet Alumna Kelly Cortazzo, Kindergarten Teacher
Wednesday, November 28, 2012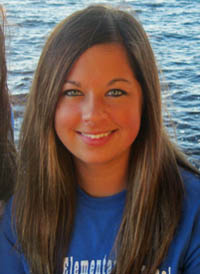 Meet Kelly Cortazzo
Degree earned: Bachelor of Arts in Elementary Education
Graduated: May 2012
Hometown: Pittsburgh, Pa.
High School: Seneca Valley High School
Now living in: Sarasota, Fla.
How did you land your current teaching position in Florida?
They found me! I had my resume uploaded on teachers-teachers.com and Mr. Shayman, the principal at West Elementary School, liked what he saw. He especially liked that my resume said "Point Park" because he had already hired two other Point Park graduates and felt that Point Park produced great teachers.
What do you like best about teaching kindergarten?
My favorite part about teaching kindergarten is that every day is interesting and full of activity. I am always on my feet and being challenged on a daily basis. Students at this age are so eager to grow and learn and their lively spirits are contagious. I love how each one of my students has a unique personality and background. Life would be boring if we were all alike.
What role has Point Park played in helping to shape your career?
Nothing can prepare you for the "real world" completely but Point Park did a great job of giving me an educational background that made me feel confident about my level of knowledge and experience when I entered my career. The level of field experience I gained at Point Park gave me an excellent view on how various educational systems operate.
More About: success story, elementary education, alumni, Seneca Valley High School, education