more news
Meet Robert Novia, Psychology Student and Intern at Allegheny General Hospital
Wednesday, August 28, 2013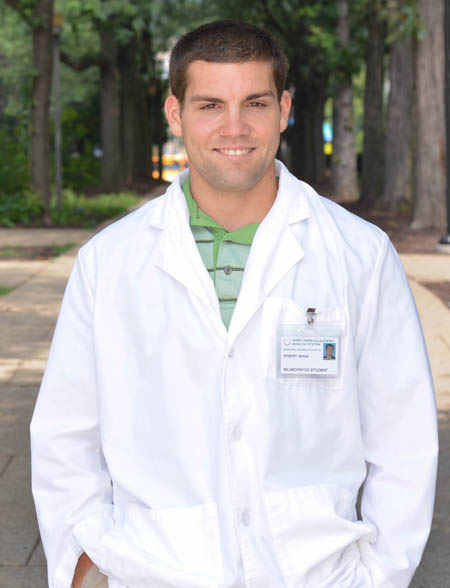 Meet Robert Novia
Major: Psychology
Internship: Neuropsychology Intern at Allegheny General Hospital
Hometown: North Port, Fla.
High school: North Port High School
Expected graduation: December 2013
College Activities: Point Park Baseball Team, Student Athlete Counsel, Judicial Board, Student Athlete Representative for a Point Park focus group and Athletics Representative at 2011 WPIAL Sportsmanship Summit
Hobbies/interests: Fishing, going to the beach, boating and traveling
How did you land your internship with Allegheny General Hospital?
A friend recommended AGH to me. After looking into their programs and doing some research, I found out about the internship opportunity with the psychiatry department. I then applied and went through the interview process and was offered the position on the spot.
What are your key internship responsibilities?
I conduct cognitive testing on inpatient referrals from AGH who have experienced head trauma due to car crashes, falls, collisions, etc. I also score the cognitive test that I administer to the patients.
What factors made you choose Point Park's psychology program?
The philosophy that Point Park's psychology program is grounded on was right for me. I really enjoyed the way in which this program is taught and has prepared me for the field I will be entering in the workforce. The professors I had the pleasure of learning from in this program were amazing and really made coming to class enjoyable.
Did Point Park's location in Downtown Pittsburgh play a role in your decision?
Yes. I come from a very small town in Florida and have never experienced living in the city before. When faced with the opportunity to stay local or come to Point Park, I made up my mind and decided to venture out and explore the big city. I can truly say that it was one of the best decisions I have ever made.
What's been your favorite Point Park experience so far and why?
I've enjoyed being part of the building process and seeing this school grow so much over the four years I have been here. Going from a small college in Downtown Pittsburgh to a university with many brand-new facilities, Point Park just keeps building and getting bigger. I am excited to see what the future holds and what this school will look like after everything is completed.
What's next for you after graduation?
My next step is to begin my career and start working in my job field as soon as possible. Whichever avenue I take, I am excited for the challenges the future holds and will be ready for any opportunity I am given.
Is there anything else you'd like to add?
The friends I have made, the experiences I've had and the knowledge I have gained here at Point Park are things I will never forget and will cherish for the rest of my life. It's been truly amazing and I am so glad I took that leap of faith to come here.

Photo by Connor Mulvaney, junior photojournalism major
More About: internships, student athletes, psychology, Downtown Pittsburgh