more news
Mechanical Engineering Major Miguel Torrenegra Finds Community at Point Park University and CEC Internship
Student Profile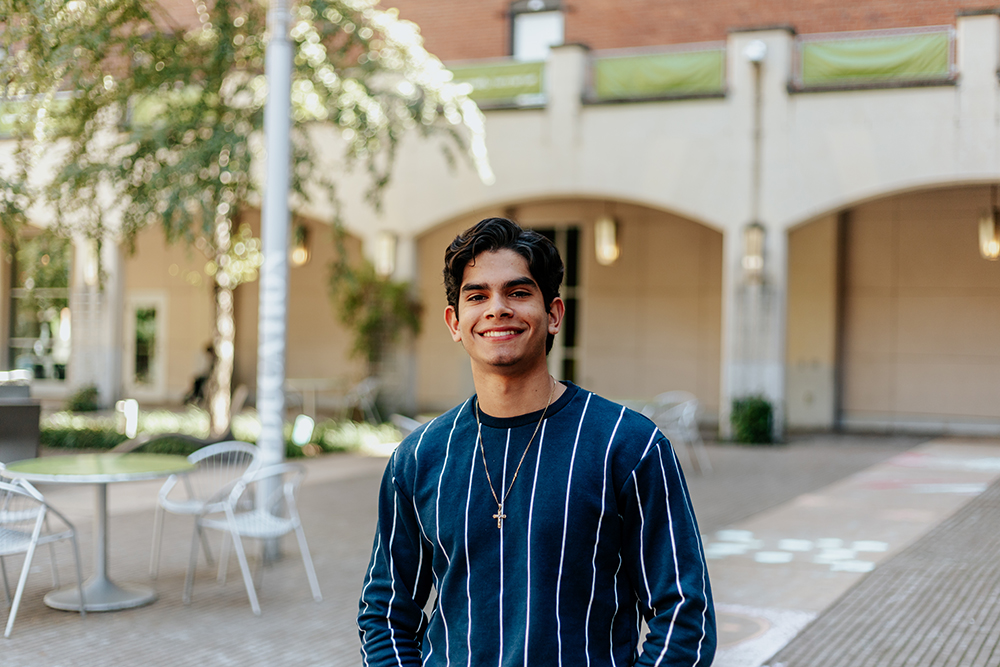 Photo by Ethan Stoner '26
Meet Miguel Torrenegra '24
Job Title & Employer

Mechanical engineering intern

Job Title & Employer

Civil & Environmental Consultants, Inc. (CEC)

Major

Mechanical Engineering

College Activities

Point Park Baseball Team and Spanish Club

Hometown

Maracaibo, Venezuela

High School

Seneca Valley High School

Now Living In

Pittsburgh, Pa.

Hobbies & Interests

Sports, exercise, traveling and watching movies
"Having Downtown Pittsburgh as my home is an awesome experience. The city's lively atmosphere means there's always something fun to do. Plus, being close to businesses and opportunities for internships is a big plus for my future."
Miguel Torrenegra '24
Why did you choose Point Park University?
I chose Point Park because of several key factors that aligned with my goals and aspirations. Firstly, being from Pittsburgh, I loved the idea of studying close to home. It allowed me to maintain strong connections with my family and visit them often, which was important to me. Secondly, I was drawn to the small university aspect of Point Park. Smaller classes and a more personalized learning experience were very appealing.
Lastly, Point Park's baseball team played a significant role in my decision. Point Park offered the opportunity to further develop my academic and athletic goals. The combination of these factors made Point Park the perfect choice for me.
I was fortunate to learn about CEC from a very close friend and former classmate, Alejandro Sthory. Alejandro and I attended school together, and he had nothing but praise for CEC and the experience he has had working there. His enthusiasm and positive feedback about the company made me curious and eager to explore opportunities there. After some research and noticing that they had open positions available I decided to apply for an internship. I went through the application process, interviewed with CEC and was fortunate to be selected as an intern.
What were your duties and responsibilities, and what did you learn from the experience?
As an intern, I had the opportunity to assist in the development and review of piping and instrumentation diagrams (P&IDs) to accurately represent process flow and equipment interconnections. I also collaborated in the review of block flow diagrams (BFDs) to visualize and communicate complex process flow scenarios. Lastly, I was able to proficiently utilize Plant 3D software to execute accurate and efficient pipe routing, ensuring optimal placement and adherence to design specifications in complex industrial projects.
I've come to appreciate the significance of working in a place you genuinely enjoy, alongside people you genuinely like. This experience has reinforced a fundamental lesson for me – the importance of a positive work environment. I've been fortunate to find both a fulfilling work environment and a team of colleagues who I genuinely enjoy working with at CEC. This has made a world of difference in my internship journey. Being in a place that encourages collaboration, values diverse perspectives and fosters a sense of belonging has not only enhanced my professional growth but also made the daily grind much more enjoyable.
In essence, my time at CEC has taught me that the right workplace culture and a supportive, friendly team can transform an ordinary job into a remarkable experience. It's a lesson I'll carry with me as I continue to grow in my career beyond this internship.
Miguel is featured in the Allegheny Conference's BePittsburgh campaign.
What do you like about Point Park's mechanical engineering program?
What I really like about Point Park's mechanical engineering program is the close-knit community. Since the class sizes are small, I get to know my classmates and professors well. It's not like being lost in a big crowd.
The professors here are incredibly helpful and always willing to assist. They're not just teachers; they're mentors who genuinely want us to succeed. Whenever I've had questions or needed help, they've been there for me. This sense of community and the support from the professors make studying here a great experience.
Which faculty members have had a significant impact on you?
Multiple professors have had a huge impact on my growth as a mechanical engineering student. Aram Parsa, Ph.D., P.Eng., has been extremely helpful and a source of inspiration, as well as the late Robert Draper, M.S. The engineering faculty are brilliant and are always willing to give students a helping hand, if necessary, which makes classes very fun and easy to understand.
What do you like about living and learning in Downtown Pittsburgh?
Having Downtown Pittsburgh as my home is an awesome experience. The city's lively atmosphere means there's always something fun to do. Plus, being close to businesses and opportunities for internships is a big plus for my future. It's super convenient because everything is nearby, and I get to meet people from all walks of life. In addition, the city's skyline and the rivers make for a beautiful setting to study in. All in all, it's a fantastic place to be during my college years.
How would you describe the campus feel at Point Park?
The campus feel at Point Park is incredibly welcoming and dynamic, which I've come to appreciate both as a baseball player and an engineering student. On one hand, the camaraderie within the baseball team creates a tight-knit community that feels like a second family. We work together and support each other on and off the field, and that unity is something special. As an engineering student, the campus provides a conducive environment for learning. The smaller class sizes mean I can easily connect with professors and fellow students, which makes asking questions and seeking help a breeze. There's a sense of collaboration here that's essential for tackling challenging engineering coursework.
Why would you recommend Point Park to a prospective student?
I highly recommend Point Park to future students. The University offers great academic programs, small class sizes and supportive professors. The campus is right in Downtown Pittsburgh, so you get access to lots of internships and a lively city scene. The sense of community here is fantastic, and the University values diversity. Plus, there are plenty of resources on campus, and you'll have opportunities for personal growth and leadership. Overall, it's a fantastic place to learn, grow and prepare for your future.
Is there anything else you would like to add?
I want to express how grateful I am for all the coaches and professors who have helped me grow as a student-athlete here at Point Park. I also want to express my gratitude towards CEC for giving me the opportunity to be part of their team during my internship and for giving me such a warm welcome. 
Learn more about Point Park's engineering programs in the video below:
Connect with Miguel Torrenegra '24
More About: student athletes, internships, success story, Seneca Valley High School, faculty, international, School of Arts and Sciences, Downtown Pittsburgh, Pittsburgh, mechanical engineering, athletics