more news
New Professor in Mechanical Engineering Technology
Friday, October 7, 2011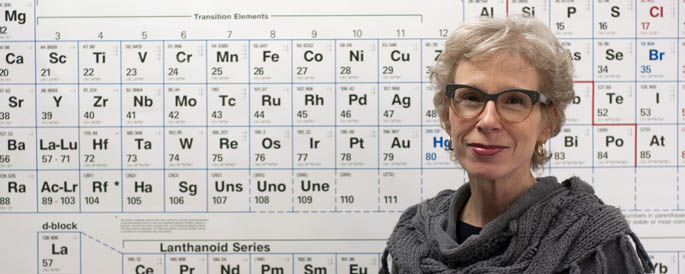 In Memoriam
Associate Professor Kathleen Puskar, Ph.D., passed away on Sept. 6, 2013. Kathleen was a valued and dedicated member of the Point Park University faculty, and she will be greatly missed by her colleagues, her students and all who knew her.

---
Meet Associate Professor Kathleen Puskar
Bringing with her an impressive blend of academic and corporate experience in engineering, Associate Professor Kathleen Puskar, Ph.D., recently returned to Pittsburgh to teach mechanical engineering technology at Point Park University. Prior to joining Point Park, Puskar was an associate mechanical engineering professor at California State Polytechnic University. Before that, she held postdoctoral scholar positions for the University of Pittsburgh School of Medicine and the University of California.
Puskar has also worked for various corporations as a computation fluid dynamics analyst, production engineer and vehicle design engineer. In the field of mechanical engineering, she earned a bachelor's degree from the University of Pittsburgh, a master's degree from Northwestern University and a doctoral degree from Carnegie Mellon University. In addition, Puskar completed fellowships with the National Institute of Health and Merck Computational Biology and Chemistry.
What brought you back to Pittsburgh?
My family lives in Pittsburgh and Point Park was exactly the type of school where I wanted to teach. I really like how Point Park offers small classes and is a teaching-focused school. During my time here so far, I've already seen a difference in student participation compared to other universities I've taught at and I contribute that to Point Park's small class sizes. My classes only have 10 to 12 students in them so there is always an opportunity to ask questions.
What classes do you currently teach?
Properties of Materials (two sections)
Statics (two sections)
How would you describe your teaching style?
I strive to teach my students the theoretical background that is needed in mechanical engineering technology but with practical applications.
What career opportunities are there in mechanical engineering technology?
Graduates have the opportunity to work in a variety of industries such as aerospace, automotive, defense, biotechnology, mass transit and nuclear power.
What advice do you have for prospective students considering a career in the engineering field?
Engineering requires a love of math and science and the application of those areas to real-world situations and problems. Engineering is hard. You have to love it and enjoy doing it. A student recently came up to me and said, "I worked for so long on my homework this weekend but after I finally completed it I thought, 'I already feel like an engineer.'" He had the right spirit. That is the spirit of an engineer.