more news
Open House to Highlight Graduate Programs in the School of Arts and Sciences
Monday, June 20, 2011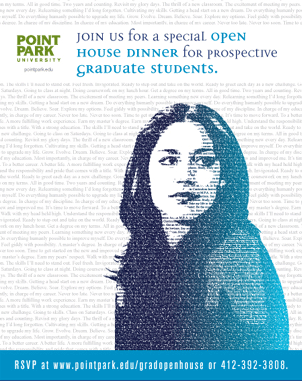 The Graduate and Adult Enrollment Office will be hosting a graduate open house dinner for the School of Arts and Sciences on Wednesday, June 29 from 5:30 to 7 p.m. in the Lawrence Hall Ballroom, located on the Point Park campus.
The following graduate programs in the School of Arts and Sciences will be discussed:
Master of Arts in Curriculum and Instruction
Master of Arts in Educational Administration
Master of Education in Special Education with Certification
Master of Education in Teaching and Leadership
Master of Education in Secondary Education
Master of Science in Criminal Justice Administration
Master of Science Engineering Management
Master of Science in Environmental Studies
Non-Degree Graduate Classes

If you are unable to attend the Graduate Open House Dinner program, please click here to review Virtual Open House Chat dates.
If you are interested in learning more about any of Point Park's graduate programs, but cannot attend an open house, please contact the Graduate and Adult Enrollment Office at 412-392-3808 to make an appointment or contact the office via email.