more news
Point Park Assistant Professor and AP Reporter Discuss Tracking a Terrorist
Friday, May 13, 2011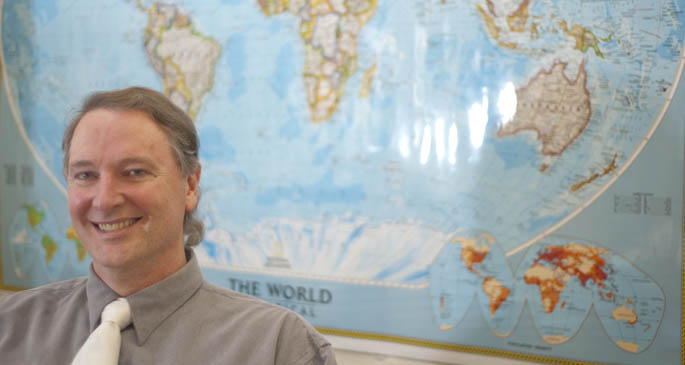 Assistant Professor Michael Finnegan

Point Park University students and faculty had the unique opportunity to hear a former FBI agent and Associated Press reporter discuss how they worked together to track down a terrorist.
Meeting for the first time face to face, Michael Finnegan, a former FBI agent and assistant professor of criminal justice and intelligence studies at Point Park, and Adam Goldman, an investigative reporter for the AP, gave a presentation at Point Park on the roles they played in pushing forward an investigation linking terrorist Khalid Al-Jawary to additional bombings. The presentation by Finnegan and Goldman was hosted by Point Park University's Honors Program.
Related links
Department of Criminal Justice and Intelligence Studies
Request information
Convicted of planting three car bombs in a 1973 terrorist attack on New York City, Al-Jawary was captured by Finnegan in Rome in 1991. Al-Jawary was suspected of leading other terrorist attacks, including letter bombings in the 1970s and a bomb that brought down TWA Flight 841 in 1974, killing 79 people.
"I told myself I would never give up on finding the person who was responsible for the lives lost in that crash," said Finnegan. He suspected Al-Jawary was the culprit but could not get the FBI to move forward on his suspicions.
However, that changed in 2008 when Finnegan received a phone call from Goldman, who was investigating Al-Jawary's links to other bombings on his own.
As Goldman searched through declassified documents and buried court paperwork, Finnegan's name kept coming up as the lead agent in the Al-Jawary case. "No one knew the case better than him," said Goldman, who decided to make a cold call to Finnegan for more information. During the first several phone calls, Finnegan was reluctant to talk but became more receptive after Goldman provided him with documents he had not seen.
"I've learned to have extreme patience when covering intelligence. It's important not to strong arm an FBI agent," remarked Goldman, who remained respectfully persistent.
Because of the collaborative efforts between Finnegan and Goldman, the FBI reopened its case against Al-Jawary. However, they could not collect enough evidence to prosecute. Nevertheless, Al-Jawary was deported to the Sudan in March 2009 after serving his sentence in U.S. prisons.
Finnegan and Goldman emphasized to students and faculty the mutual respect they have for one another but also the distinct difference between their roles.
"As a journalist, it's not my job to put people in jail but to learn as much as possible and report on it," said Goldman.
Finnegan, on the other hand, said: "My only role is to see that the intelligence community works as effectively as possible to bring individuals like Al-Jawary to justice."


Q & A with Michael Finnegan

The Department of Criminal Justice and Intelligence Studies is part of the School of Arts and Sciences and offers several bachelor's degrees and a master's degree in criminal justice administration. Finnegan teaches classes in court organization and operations, criminal investigation, police interviewing and interrogation techniques and criminal evidence.

Who inspired you to become an FBI agent?
A former nun at the University of Pittsburgh's Law School who had left the convent to become an FBI agent inspired me to apply.
How did you transition into teaching full time?
On the day I retired as an FBI agent in 2004, a play I had written about an Irish-American Civil War hero titled "Meagher" was produced in the Penn Avenue Theatre in Pittsburgh. It was one of the most gratifying experiences of my life to watch my work produced. After the play, I wrote a screenplay based on "Meagher" and a television pilot based on the Terrorist Task Force in New York City. Then in 2006, I was invited to teach a terrorism course at Point Park. When I began to teach, I realized that I had spent 20 years of my life locking people up for very serious crimes and teaching presented me with an opportunity to prevent people from ever pursuing a life that would lead to crime. I always urge my students to live transparent professional lives that will serve themselves and the community very well.
How do you incorporate your many years as an FBI agent in the classes you teach?
Three things I have learned from my FBI career transcend all others: duty, mission, and opportunity. In teaching, I have a duty to bring my "A" game to every single class. Second, I know I have a mission to serve students. The students I teach will use their education to transition into public service professions that will have positive effects for the next 30 years. Third, I have an opportunity to impact an incredibly interesting and diverse student population who make me laugh, wonder and marvel on a daily basis. I love my students.
What advice do you have for students looking to pursue a career in intelligence?
The intelligence field is very competitive. Make sure you are the best you can be. Never miss an opportunity to learn a foreign language. Read online newspapers from different countries to gain a global perspective. Stay physically fit. Be prepared for exams. To paraphrase Vince Lombardi, everyone has the will to win, what is needed is the will to "prepare to win."