more news
Point Park Hosts Fourth-grade Students for Poetry Reading
Friday, January 10, 2014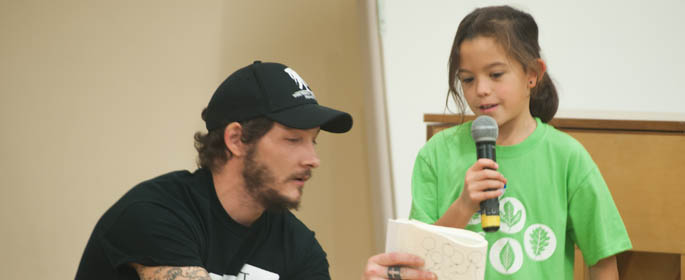 Point Park students from a variety of majors hosted and entertained 73 fourth-grade students in December for an interactive poetry reading and luncheon.
"For our students, it provided an opportunity to talk about what we've been studying and to share (with a VERY appreciative audience!) their work," said P.K. Weston, Ed.D., professor of composition and literature and director of the English program at Point Park University.
The elementary students traveled from Environmental Charter School on a field trip organized by fourth-grade literacy teacher Alex Duffy. As part of their study of poetry, Duffy wanted to show her class that many types of people use this form of writing to express ideas about topics and issues that interest them.
Point Park students were invited to volunteer and 20 offered to read their own and other writers' poetry. After each poem, they answered questions about their experiences as writers and University students. While most read their pieces from the auditorium stage, others combined the reading with music, song, dance or audience participation.
"My favorite part of the event was being able to interact with the fourth-grade students and share their interest in poetry. It was such a great experience overall. It provided a unique opportunity for us to interact with younger children and, more importantly, act as role models," said Brenna Fritz, a sophomore English/Creative writing major.
Fritz read her original poem "The Loneliest Strawberry" to the students.
"I liked that we college students were showing that poetry and the arts don't really go away even after you graduate high school. It is a part of life and not only English majors can have an appreciation of words/poetry," said McKenna Adams, a sophomore psychology major with a minor in intelligence and national security.
She also appreciated the opportunity to practice her public speaking skills in a low-stress setting. Adams read "Maybe Dats Your Pwoblem Too," a poem from the perspective of Spiderman written by James W. Hall.
Adams chose Point Park because it offers an intelligence and national security program but also because she wanted to experience life in the city. "I plan to go to law school after my undergraduate study, then apply to the FBI academy and, I hope, to one day be part of a behavior science unit," she added.
After lunch with the Point Park students, the fourth-graders practiced their own public speaking skills.
"The Point Park students really seemed to inspire ours and may have even given some the courage they needed to share their words with those around them," remarked Duffy.
Because the poetry was so varied, each elementary student had the chance to hear something that would appeal to him or her.
"My favorite part of the event was seeing the dancers perform to the poem because I am a dancer," said a student named Spencer, while Milly explained that "I play piano and really enjoyed the poetry reading with the piano."
Kira stated that she "liked hearing all of the poems!"
"As we waited for our bus, two students told me that they hoped they would be accepted to Point Park University when they were old enough! P.K.'s students kept ours engaged, and the fact that so many were willing to volunteer their time says a lot about the culture of the University," said Duffy.
More About: student workshop, English, Department of Humanities and Human Sciences, creative writing