more news
Point Park Hosts Inaugural Mathematics Symposium for High School Students
Tuesday, November 13, 2012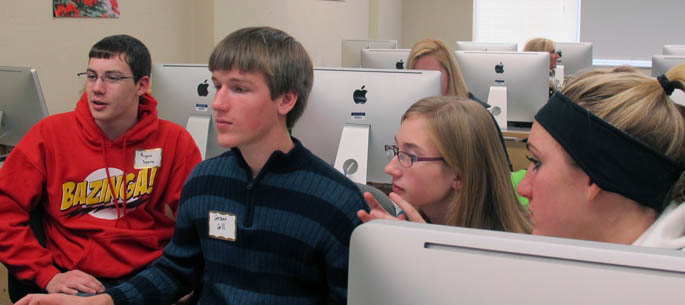 Making math fun for everyone was the focus of Point Park University's inaugural Mathematics Symposium held on Nov. 2.
More than 30 students from nine different high schools participated in various fun hands-on mathematical activities including a scavenger hunt looking for geometrical shapes in Downtown Pittsburgh.
"We grouped students together, provided them with a list of geometrical shapes, a map of a two block radius from Point Park University and a digital camera," explained Darlene Marnich, Ph.D., professor and chair of the education department. "After finding the shapes on the list and photographing them, students came back to the computer lab to produce PowerPoint presentations about their findings."
The math symposium students then showcased their results and computations, giving presentations in Point Park's Lawrence Hall Ballroom and earning prizes for their work.
"I was very impressed with the students' creativity. They found clever representations of geometry all around Downtown," remarked Matthew Pascal, Ph.D., assistant professor of mathematics.
Tony Wang, a sophomore at Upper St. Clair High School who plans to attend college to study pre-med, heard about the symposium from his math teachers and decided to go because it "seemed like a cool event."
"I've enjoyed doing the hands-on activities. Right now we are working in groups to find the height of Mt. Washington," said Wang at the symposium.
"Mathematics is important because it is a universal language. It can be communicated, if understood, regardless of one's culture. Its solutions are truth, found without prejudice, opinion or an agenda," said Mark Marnich, Ed.D., associate professor of mathematics.
When asked about her interest in mathematics, Angela Barnes, a junior at West Mifflin High School, replied: "With math there is always a solution. I like finding a definitive answer to everything and won't stop until I get it."
Barnes' college plans are to double major in accounting and computer technology.
"Every academic field has an important mathematical perspective," said Pascal. "We need to break the myth that mathematics is something only a few kids can understand. It's for everybody, and can be understood by anybody."
In the News
Check out this Pittsburgh Post-Gazette article on the Mathematics Symposium: "Point Park University program helps high school students add to their math skills," 11/2/2012.


More About: mathematics, high school programs, symposium, secondary education, education