more news
Point Park Professor Presenting on YouTube for Celebrating Space Week
Tuesday, November 14, 2017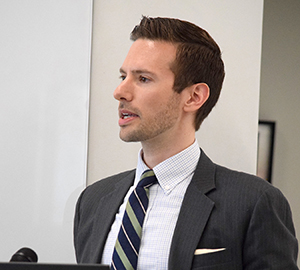 Brendan Mullan, Ph.D., assistant professor of physics at Point Park University, is one of about 30 educators taking part this week in Celebrating Space Exploration, a special event offering online hangouts to classrooms around the county.
Mullan, an astrophysicist and astrobiologist, studies how galaxies collide and form stars in their interstellar wreckage, as well as the intersection of SETI (search for extra-terrestrial intelligence), ethics and humanity's future.

As a science educator, social entrepreneur and National Geographic Emerging Explorer, Mullan works to inspire the next generation of scientists and engineers.
"This is a great way for teachers to offer students a way to connect with possible career paths in space science," he said.
Mullan will present live Fri., Nov. 17, at 1 p.m. and can be watched via this link on YouTube: Explorer Classroom | Dr. Brendan Mullan: Astrobiologist.
Celebrating Space Week is part of an initiative called Exploring by the Seat of Your Pants, which was started by Joe Grabowski, a collaborator of Mullan's and a fellow National Geographic Explorer. Each month, the initiative hosts Google Hangouts for classrooms as well as full-day events focusing on various themes to inspire future scientists, explorers and conservationists.
Learn More
Mullan teaches various math and science courses in the Department of Natural Sciences, Engineering and Technology at Point Park University.
Photo by Gracey Evans, junior photojournalism major
More About: faculty research, natural sciences, faculty presentation, School of Arts and Sciences, faculty