more news
Point Park to Offer Master's Degree in Clinical-Community Psychology
Wednesday, October 10, 2012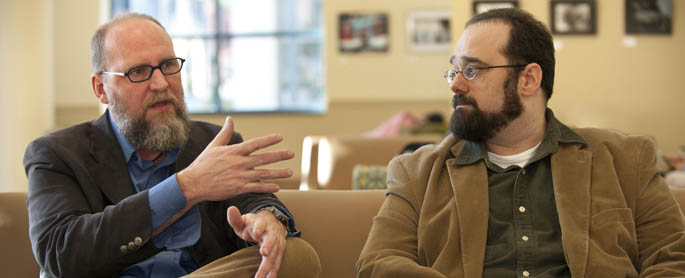 Associate Professors of Psychology Robert McInerney, Ph.D., and Brent Dean Robbins, Ph.D.

The School of Arts and Sciences at Point Park University will be offering a 48-credit Master of Arts degree in clinical-community psychology, beginning in the Fall of 2013. Currently, there are only three other universities in the United States who offer this type of master's degree program, with Point Park being the first in Pennsylvania.
According to Brent Dean Robbins, Ph.D., associate professor of psychology and incoming president of the Society for Humanistic Psychology, Division 32 of the American Psychological Association, this M.A. program is designed for individuals who are passionate about social change and have deep ethical concerns for others.
By integrating two important subfields of psychology - clinical and community psychology - the program offers students a holistic, humanistic, and phenomenological approach that seeks to better explain human experience and behavior.
As part of their thesis, students in the program will identify a community in need of intervention due to social factors. Based on research review and assessment, students will then design a plan to improve the mental health and well-being of the at-risk community.

"The thesis project will have a direct impact on individual lives and will enable students to make connections with key individuals in the community," said Robert McInerney, Ph.D., associate professor of psychology. "Point Park's diverse, Downtown Pittsburgh campus is a perfect fit for this program partly because our students' 'action research' will reflect the needs and desires of those around us. We like to call our program 'hands-on psychology' that spills out onto the streets."
According to the U.S. Bureau of Labor Statistics' Occupational Outlook Handbook, overall employment of psychologists is expected to grow 22 percent by 2020, faster than the average for all occupations. The increased demand for psychological services in hospitals, schools, social service agencies, mental health centers, substance abuse treatment clinics and private companies is expected to drive the need for more trained psychologists.
"Psychological expertise is needed in all communities. Graduates of our master's program will come away with solid research skills and a strong psychological knowledge of how the community can contribute to the well-being of individuals," remarked Robbins.
Admissions Requirements
Submit official GRE scores.
Undergraduate QPA of 3.0 is required for straight acceptance.
A letter of intent (approximately 500 words) is required. This letter should address how your professional experience and career goals relate to your graduate study.
Two letters of recommendation
Applicants are now being accepted for the Fall 2013 term. For additional information on this program, contact the Office of Graduate and Adult Enrollment at 412-392-3808 or email ptenroll@pointpark.edu.
More About: faculty, psychology, M.A. in clinical-community psychology