more news
Prague Writers' Festival Makes its U.S. Debut at Point Park, Features Author E.L. Doctorow
Monday, October 28, 2013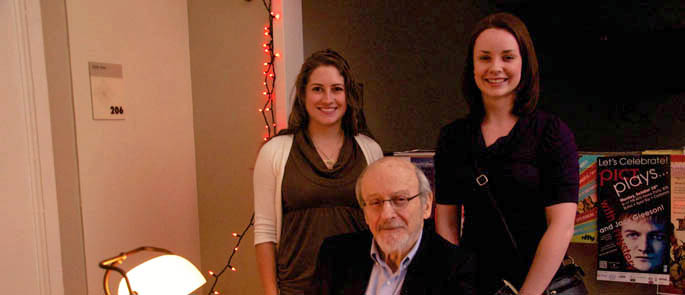 Point Park University students pose for a photo with internationally-renowned author E.L. Doctorow.

The Prague Writers' Festival, an international gathering of writers, poets, historians and journalists, took place in the United States for the first time ever — and it was hosted by Point Park University.
Drawing more than 200 people, the festival's Friday evening event on Oct. 18 featured internationally-renowned author E.L. Doctorow, who gave a world premiere reading of his latest novel, Andrew's Brain, and participated in an on-stage interview with Michael March, founder and president of the Prague Writers' Festival.
"It's really exciting to be at a university where such a prestigious event took place," remarked Jane McAnallen, a freshman public relations and advertising major. "The Prague Writers' Festival was held in the U.S. for the first time and it was hosted by Point Park. That's an honor."
Titled "Birth of Nations/The Pursuit of Happiness," the Pittsburgh gathering of the festival kicked off on Oct. 17 with a reception hosted by Point Park President Paul Hennigan.
The reception brought together state, city and civic leaders, festival participants, Point Park representatives and members of the Czech Senate to honor and celebrate the 95th anniversary of the Pittsburgh Agreement, which helped to establish the state of Czechoslovakia in 1918.

Professor Channa Newman, Ph.D., director of the University's global cultural studies program, serves as director of international programs for the Prague Writers' Festival. Newman said the festival offered an incredible opportunity for students to meet writers from around the world including Egypt, India and the Czech Republic.

"In addition to literature, so many topics — history, culture, economics and freedom of speech — were covered," said Newman. "As Michael March likes to say, 'The Festival is a festival of ideas.'"
The two-day program portion of the festival began with a presentation from Tomáš Sedlácek, an economist from Czech Republic and author of Economics of Good and Evil. Sedlácek discussed people's desires for overconsumption and how economics cannot regulate itself without boundaries. He argued that the biggest enemy of good is the idea of better.
"I enjoy events like this because I really get to learn about other cultures and perspectives in the world," said Carlene Morgan, a sophomore global cultural studies major, who attended Sedlácek presentation.
The next session focused on the history of the Pittsburgh Agreement and featured historians Mary Heimann, Ph.D., Martin Votruba, Ph.D. and Point Park Visiting Assistant Professor of History Jehnie Reis, Ph.D. as panelists.
"I'm ethnically Slovak so this lecture was a real eye-opener. I never knew the Pittsburgh Agreement was proposed by the Slovaks so I've learned a lot," said Jeff Hames, a senior public relations and advertising major with a minor in history.
The final day of the festival featured a "Freedom of Literature" discussion and various readings with authors Anita Desai, EdaKriseová¡, Hamdy El-Gazzar andMartin Vopênka as well as Henry Reese, co-founder and president of the City of Asylum/Pittsburgh and Steven Sokol, CEO of World Affairs Council of Pittsburgh.
Media Coverage of the Prague Writers' Festival at Point Park
Pittsburgh Post-Gazette
"Prague Writers' Festival opening in Pittsburgh; first time in U.S."
Pittsburgh Tribune Review
"Fall Arts: Lineup of speakers confirms Pittsburgh as literary hub"
"Prague festival brings authors, ideas to U.S."
Pittsburgh City Paper
"An international festival goes Pittsburgh, plus visits form name authors and rising talents"

"E.L. Doctorow heads a roster of authors visiting town for the Prague Writers' Festival"
Associated Press
"Pittsburgh to host Prague Writers' Festival this weekend; 1st time event being held in US"
(Also featured on ABC News, NPR, Time, The Washington Post, San Angelo Times, Times Tribune in Tacoma, Wash., Kansas City Star and others)
CT24 (Czech television news station)
"Prazký Literárni Festival v Pittsburghu" (Segment begins at 8:18)
More About: Department of Humanities and Human Sciences, Downtown Pittsburgh, faculty, global cultural studies