more news
Prof. Opdyke, Students Research Lichen as Indicator of Air Quality
Friday, May 28, 2010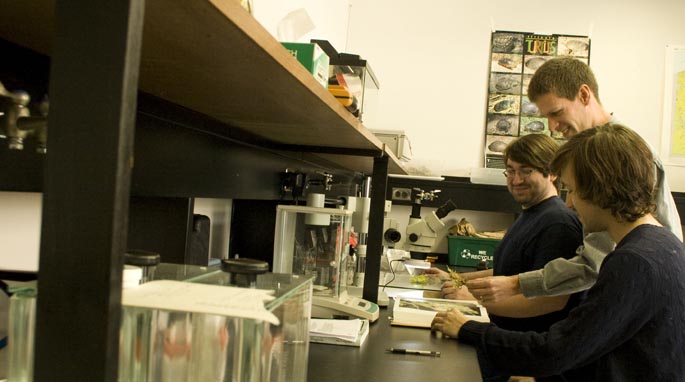 As you walk around Pittsburgh, you may notice plant life growing around you. Whether you are strolling through Frick Park or hustling to catch your bus Downtown, nature's imprint is everywhere. For Dr. Matthew Opdyke and his students, that natural growth is a whisper of something much bigger.
Opdyke is an assistant professor of environmental studies in Point Park's Department of Natural Sciences and Engineering Technology. After receiving a research grant from the Pennsylvania Department of Conservation and Natural Resources in June 2009, Opdyke has been studying lichen -- a composite organism consisting of a symbiotic association of a fungus with a photosynthetic partner such as algae. The algae and fungus live off one another.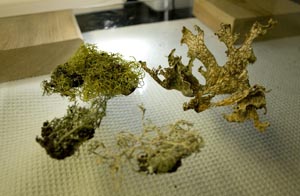 Lichen can grow in fairly extreme environments, Pittsburgh's bitter winters being no exception. They can grow on brick walls just as well as in green space. What is most intriguing to Opdyke and his students is that the diversity and growth of the lichen is also an indicator of air quality.
"We're studying lichen in areas like Schenley Park, Frick Park, Mingo Creek, Roaring Run, and Downtown," said Opdyke. "We've found that Mingo Creek has the most diversity of lichens. It's the most natural space and it's the moistest. So we can begin to make some assumptions based on the diversity of lichen growth and its location."
Joshua Roy is a senior in the NSET program. He began working with Opdyke last summer conducting plant monitoring and has worked on the lichen project throughout the fall.
"The most interesting part of what we do is being in the field," Roy said. "It's a lot of work. You must be sure that when you publish your data, it is statistically sound. But it's exciting to be able to contribute to scientific understanding on a local level."
Kyle Barnada-Acuna, a junior in the NSET program, has been working with Opdyke throughout the fall semester collecting samples of mineral lichen from local parks to include in a diversity list for the state. His experience with the project has changed the way he sees the world around him.
"It's amazing how many subjects you can pull from a small area," Barnada-Acuna said. "I've also begun comparing what I see here with other areas. I was visiting Philadelphia recently and I found myself noticing things I never would have before."
Opdyke and his students will begin collecting lichen samples again in the Spring. The research project ends in June 2010.
Article by Terra McBride
Photos by Bethany Foltz