more news
Professional Engineer Discusses Design of The Tower at PNC Plaza
Thursday, November 6, 2014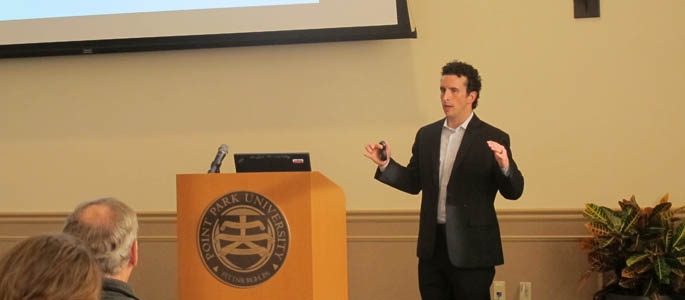 Point Park University's engineering students and alumni recently heard Jeremy Snyder, P.E., associate principal for BuroHappold Engineering, present on the design of Pittsburgh's newest high-rise building in the making - The Tower at PNC Plaza.
"I've known Jeremy for a long time. When I discovered his pivotal role in the design and implementation of the systems in The Tower at PNC Plaza, I had a feeling students would benefit from his presentation," said Matthew Pascal, Ph.D., assistant professor of mathematics.
According to Snyder, the tower is expected to be complete in the fall of 2015 and will serve as a workplace for 2,200 employees. It will be the first naturally-ventilated high-rise building in the United States.
"My favorite part of the presentation was learning about how the building 'breathes.' The ventilation systems on the building seem very complex so it was interesting to hear how it will function," said James Walbert, a 2013 civil engineering technology alumnus.
Walbert, an engineer-in-training for the Power Delivery and Structures group at GAI Consultants, Inc., decided to attend the event to reconnect with his Point Park professors and learn about engineering "taking place right in our backyard."
"Mr. Snyder's presentation was very interesting. It was great to hear a professional engineer talk about his work and learn about the many innovative ways in which The Tower at PNC Plaza will be the most efficient and green building in existence," explained LeAnne Blaeser, a senior civil engineering technology major.
In his presentation, Snyder detailed the seven systems that work in conjunction to make the tower a premier example of sustainability.
"We are lucky to have this new building in our skyline. It will be the greenest office tower on the planet," remarked Pascal.
More About: M.S. in engineering management, student workshop, faculty, engineering technology