more news
Professor and Graduate Student Awarded Grant to Study Lichen
Tuesday, April 15, 2014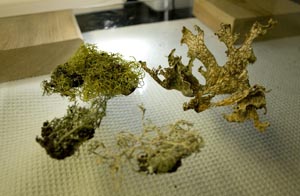 Samples of lichen in the lab at Point Park University

Matthew Opdyke, Ph.D., associate professor of environmental science and Joshua Daugherty, a graduate student in the Master of Science in environmental studies program at Point Park, were awarded a grant from the University of Pittsburgh's Pymatuning Laboratory of Ecology, to study the species diversity and distribution of lichens at Pymatuning State Park this summer.

This grant is for a preliminary assessment of lichens in the area, with the expectation that it will develop into a more involved study on the ecology of lichens.

"As part of the completion of the grant, we are required to give a professional presentation to local scientists at the Pymatuning Laboratory of Ecology. As a graduate student, this will give Joshua a unique opportunity to network," said Opdyke.

Opdyke was awarded his first grant to study lichen in 2009 by the Pennsylvania Department of Conservation and Natural Resources. His research involved studying lichen as indicators of air quality in areas like Schenley Park, Frick Park, Mingo Creek, Roaring Run and Downtown Pittsburgh.

For more information on Opdyke's lichen research, visit http://www.opdyke-environlab.com/ and the Pittsburgh Post-Gazette article "The Next Page: The Secret World of Lichen."
More About: M.S. in environmental studies, natural sciences, faculty