more news
Professor from University of Salford Manchester Presents to Point Park Intelligence Majors
Tuesday, March 20, 2018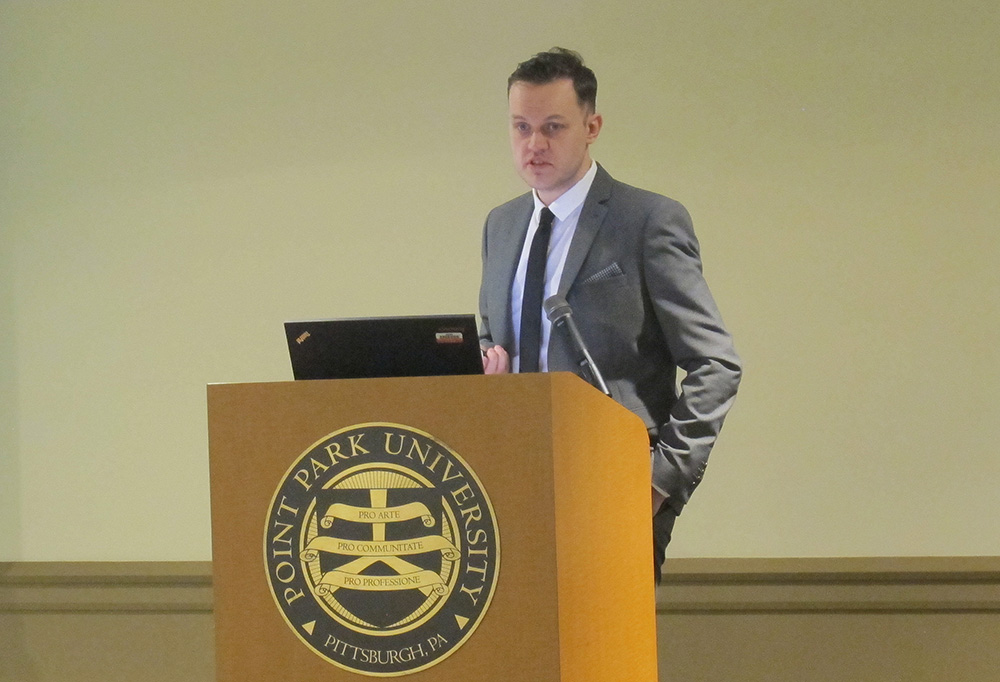 Traveling from England for his first-ever visit to Pittsburgh, Daniel W. B. Lomas, Ph.D., lecturer in international history at the University of Salford Manchester, met with Point Park University's intelligence and national security majors March 14.
Lomas' presentation titled "What now? Intelligence, the 'special relationship' and the lessons from the past" discussed the intelligence relationship between England and the United States. 
He argued that even when presidents and prime ministers have rocky relationships, the course of history has shown that the special intelligence relationship between these two countries continues.
"Intelligence officers will continue doing intelligence operations regardless of what presidents and prime ministers are doing," Lomas said.
"The presentation was very good! I liked that Dr. Lomas backed up his points with lots of historical facts and agreements made between our nations that have strengthened this special relationship," said an intelligence and national security major at Point Park. (Due to the nature of the intelligence field, the identities of students in this particular program are often protected).

The student added: "I think the most significant point Dr. Lomas made was that despite any policy or individual disputes between the United States and the United Kingdom, a relationship will always exist for intelligence sharing. He stressed that intelligence collaboration will never cease to exist, as long as we share a common threat and desire to main security within our respective countries."
"Dr. Lomas provided a well-rounded exploration of the 'special relationship' between the U.S. and British intelligence that included history, structural dynamics, trends and forecasts. He also entertained the many insightful questions posed by our intel students," explained Sean Elliot Martin, Ph.D., criminal justice and intelligence studies lecturer and coordiantor of Lomas' trip to Point Park.
CJIS Lecturer Andrew Richards, M.A., added: "Dr. Lomas provided a refreshing insight into the development of the intel relationship between the USA and Great Britain. His presentation included an anticipation of the future exchange and cooperation, as well as some obstacles to its development. This well-measured presentation is indicative of the quality of instruction that we hope may be a part of Point Park's future in an exchange program."
Future Partnership Between Point Park University and the University of Salford Manchester
Point Park University's Department of Criminal Justice and Intelligence Studies is exploring a combined degrees exchange program with the University of Salford Manchester's M.A. in intelligence and security studies.
"Point Park was the first university in the U.S. to create undergraduate and graduate degree programs in intelligence," said Michael Botta, M.S., D.S.S., associate professor and chair of the CJIS department. "We are really excited about this upcoming partnership with the University of Salford and the great international opportunities it will bring to our students."
Learn More
More About: international, School of Arts and Sciences, M.A. in global security and intelligence, intelligence and national security, student workshop