more news
Professor Matthew Vogel Strives to Instill in His Students a Passion for Special Education
Monday, August 8, 2016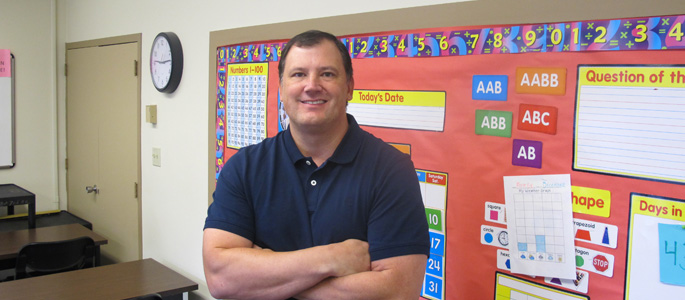 Matthew Vogel, Ph.D., is an assistant professor of special education at Point Park University. Prior to joining Point Park, he was a learning support instructor for the Seneca Valley School District. Before that, he was an assistant professor of special education at Slippery Rock University.

Additionally, Vogel worked as a highly-qualified special education emotional support, learning support and life skills instructor for North Allegheny School District; a special education learning support instructor for Greenville Area School District and a director and clinical manager for the Bellefonds Neuropsychological and Reeducation Research Program at George Junior Republic in Grove City, Pa.
What inspired your passion for special education?
My first job after graduating with my undergraduate degree in business administration was as a counselor for students diagnosed with severe emotional disturbances. Honestly, it was a position I accepted as a way to begin paying off student loans, but I ended up absolutely falling in love with the field.

The daily challenges, creative problem solving opportunities and love for students made special education the field of choice for me. I decided to redirect my education, earning a master's degree in special education as well as a teaching license. My goal as a Point Park professor is to instill in my students a passion for the special education field.
Why did you decide to teach at Point Park?
I embraced the opportunity to teach in a dynamic, urban environment. After several visits to Point Park, it was obvious that both the faculty and students actively worked together to establish and achieve their professional goals, ultimately serving communities by improving the educational experiences for all students.
What do you think makes Point Park's education program unique?
Knowledgeable, experienced education faculty, combined with small class sizes, makes Point Park University's education program unparalleled.
Describe your teaching style.
I adhere to a student-first philosophy, which means I am here for my students and committed to working for their best academic interests. I strive to make the learning process fun, interactive and challenging for my students. By incorporating various instructional strategies including storytelling, professional collaborations, small group work, lectures, case studies, guest speakers and technology, I offer my students a smörgåsbord of learning opportunities. Combined, I believe these elements are a recipe for success and life-long learning.
Without students, my job would not exist. Therefore, I give students my 100 percent. Giving them anything less would be unfair and would possibly lead to a significant, negative ripple. For instance, if I fail to share with my students the knowledge I have cultivated over my academic and professional tenure, not only would I fail my students, but I would also fail the thousands of students whose lives these future educators will serve. I truly believe there is no other profession that touches as many lives, and shapes the future as greatly, as the profession of teaching. I am proud to be a member of this honorable profession.
What advice do you have for our education students?
Change your perspective. You are no longer taking classes in order to graduate. Your goal is much bigger! You are taking vital steps toward doing something you really want to do. View all you do at Point Park University as career preparation.

Do not look at class assignments, observations and field requirement as just homework, but rather opportunities to prepare yourself for your future classroom. Realize the hard work, dedication and sacrifice you put in now will have an incredibly positive effect on all of your future students. You now have the power to determine your future and do what you love. Make your education a top priority.
Do you have a favorite quote?
"I have come to believe that a great teacher is a great artist and that there are as few as there are any other great artists. Teaching might even be the greatest of the arts since the medium is the human mind and spirit." - John Steinbeck
More About: education, School of Arts and Sciences, graduate education, special education, faculty