more news
Professor Named Vice Chair of PA Judiciary Education Board
Friday, April 8, 2016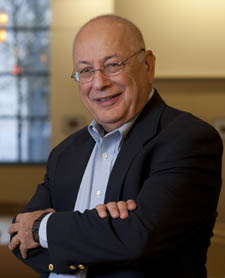 Nathan Firestone, J.D., professor of political science at Point Park University, has been designated as vice chair of Pennsylvania's Minor Judiciary Education Board by the state Supreme Court.
Firestone has served as senior magisterial district judge as well as a long-time magistrate for the neighborhoods of Squirrel Hill, Shadyside, Point Breeze, Regent Square and Swisshelm Park in the city of Pittsburgh.

He teaches constitutional law, government and political science courses at Point Park.
"I've always liked the fact that our classes are small and you are able to get to know students on a personal basis," said Firestone. "One of the nice things about this job is that you come to realize, over time, that you can really have a positive effect on your students."
Learn More
Learn more about Point Park's political science program within the University's Department of Humanities and Human Sciences.
More About: political science, Department of Humanities and Human Sciences, School of Arts and Sciences, faculty, Pittsburgh