more news
Psychology Alum is Program Director at Western Psych
Wednesday, October 19, 2011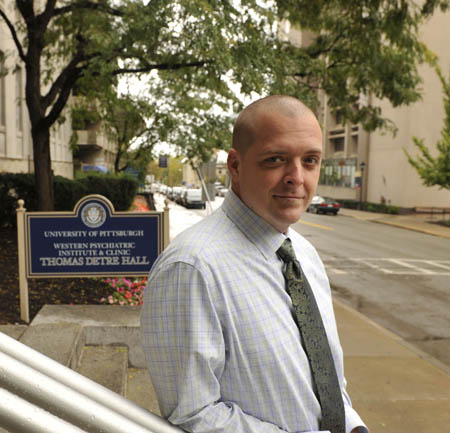 Finding a Career Direction
Even as a young child, Point Park psychology alumnus Nick Williams, Ph.D., was able to easily interact with residents at the group homes his parents managed.

"From early on it just felt natural to me to be around all sorts of people with all sorts of behaviors," he explained.
Yet, it would be several years until he would realize how he could translate his ability to connect with all types of people into a career.
"I kind of figured I'd be a musician or a writer, something more focused on creative self-expression," said Williams.
After graduating from high school in central Oregon, Williams traveled abroad for a year with Up with People, a service organization focused on international travel, intercultural living, performing arts, community service and leadership development.
"I got to see a much broader side of the human experience than I ever imagined," he remarked. "That experience really made me want to get to know how and why we do what we do, how we survive tragedy and trauma, why we create works of beauty, why we destroy them and on and on."
On the Path to Point Park
While traveling abroad, Williams met a student already attending Point Park who encouraged him to apply. Williams followed that advice and began college the following fall majoring in an area that was truly a natural fit for him - psychology.
"I had the great fortune to take classes with Dr. Robert Fessler, who aside from being an intelligent and fascinating guy, portrayed psychology as something both mysterious and exciting," he said.

Williams credits the humanistic style of psychology taught at Point Park for giving him a strong foundation in the field. "The humanistic perspective taught me that psychology is at the heart of all inquiry, whether it's in the natural sciences, computer science, social sciences and so on."
"In class, Nick would just sit there and listen, soaking it all up, but never writing down a word. Then it would all come back out on his exams. Not just a regurgitation but an integration of what he had heard, read, thought about and pondered, like a jazz soloist trying out variations of a theme and discovering new ways to put it all together," explained Fessler, Ph.D., psychology professor and acting dean for the School of Arts and Sciences.
"He had and still has the kind of consciousness that dances. It was a pleasure to have him in class," Fessler added.
Now a Leader in the Psychology Field
Williams graduated from Point Park in 1998 and went on to earn an M.A. and Ph.D. in psychology from Duquesne University. Most recently, he was promoted to program director at Western Psychiatric Institute and Clinic, consistently ranked as one of the best psychiatric hospitals in America by U.S. News & World Report.

"Nick is doing very good things at Western Psych and in the community. He is a solid, down-to-earth guy who just happens to have a very fine mind and a compassionate soul. Pittsburgh is lucky to have him and Point Park should be proud to have had at least a little to do with helping to shape his direction in life," said Fessler.
A resident of Pittsburgh, Williams lives with his wife Shannon and daughters Rosalea and Ella.
"Being at Point Park was great," said Williams. "I got exactly the kind of exposure to psychology that I needed to get."