more news
Psychology Professors' New Book Critiques the Overuse of Antipsychotic Drugs in Children
Monday, March 26, 2012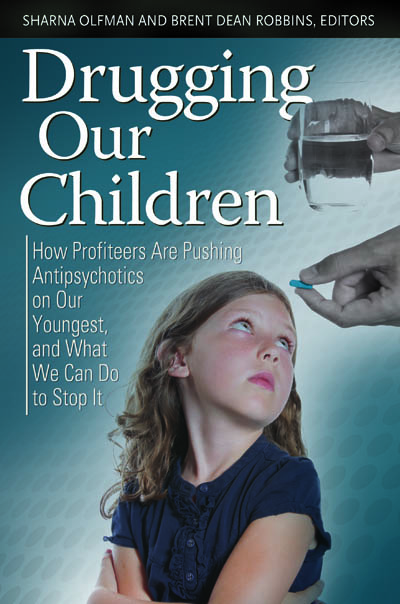 Point Park University professors Sharna Olfman, Ph.D., and Brent Dean Robbins, Ph.D., recently released their book, Drugging Our Children: How Profiteers are Pushing Antipsychotics on Our Youngest and What We Can Do to Stop It.
The book examines the reasons behind the dramatic rise in antipsychotic drug prescriptions for children and how historical and cultural factors, as well as the role of the pharmaceutical industry, have influenced this trend. The ethical and legal responsibilities and ramifications — particularly among child psychologists who work with children being treated with antipsychotic drugs — are also discussed.

Olfman and Robbins' book also provides alternative approaches to working with children who have emotional and behavioral challenges.
"I was inspired to work on this book because I believe that the marketing of antipsychotics to millions of children is wide-scale child abuse," remarked Olfman.
Olfman offers a course at Point Park titled "Drugging Our Children" which is built around her book. This course explores the nature of children's psychological distress, the business of mental illness, and the science behind drug therapies and psychotherapy.
Robbins' inspiration for the book stemmed from the experience of having a loved one suffer with severe side effects from antipsychotic drugs. "To better understand what was happening to this person I care so much about, I began to extensively examine the literature on these drugs. I became increasingly shocked at how dangerous these drugs really are," explained Robbins.
Drugging Our Children has received multiple endorsements including one from Allen Frances, M.D., chair of the DSM-IV Task Force and professor emeritus of Duke University's School of Medicine. "Aggressive drug company marketing has promoted the widespread overuse of antipsychotic drugs with potentially harmful side effects. This valuable book provides a powerful pushback," said Frances.
About the Authors
Olfman is a professor of clinical and developmental psychology at Point Park University and a clinical psychologist in private practice. She is the editor and author of Praeger's Childhood In America book series. Olfman's published works include The Sexualization of Childhood, Bipolar Children, No Child Left Different, Childhood Lost, and All Work and No Play. She has written and lectured widely on the subjects of children's mental health and parenting.
Robbins is an associate professor of psychology and coordinator of the psychology program at Point Park. He is editor-in-chief of Janus Head: Journal of Interdisciplinary Studies in Literature, Continental Philosophy, and Phenomenological Psychology, and a recipient of the American Psychological Association's Harmi Carari Early Career Award. His published research includes mixed method investigations of emotion, embodiment, and the medicalization of the body in contemporary Western culture, with particular attention to the implications of these findings for the treatment of mental illness.