more news
Psychology Students and Pittsburgh Mercy to Show Artwork by Homeless
Thursday, March 10, 2016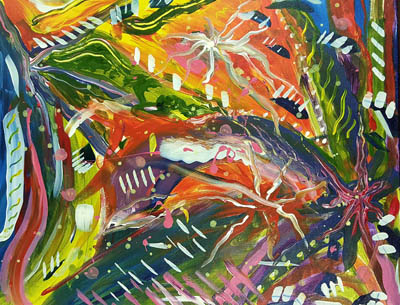 Group painting by artists in one of Operation Safety Net's open art studios
"Home is Where the Art is," - a one-night-only art show hosted by Point Park University's Confluence Psychology Alliance student group and Pittsburgh Mercy's Operation Safety Net® - will feature the artwork of more than a dozen individuals who have experienced homelessness and participated in open art studios.
The April 8 event will be held from 6 to 9 p.m. on Point Park's campus in Lawrence Hall, Room 200, and is free and open to the public. Jacqueline Reynolds, M.A., an art therapist with Operation Safety Net, will deliver opening remarks at 7 p.m.
Operation Safety Net® currently holds open art studios at two locations in Pittsburgh -Wellspring Drop-in Center (Uptown) and Trail Lane Apartments (South Side).
As part of their advocate ethnography research, M.A. in clinical-community psychology students Alexandria Bright, Calla Kainaroi and Jeremy Northup are currently working under the leadership of Point Park alumnus Kevin Gallagher, Operation Safety Net® supervisor, visiting and speaking with men and women living on the streets of Pittsburgh.

"What I like most about open studio is how when people come, they identify as artists," said Bright.
According to Pittsburgh Mercy, art has become widely used by behavioral health and human service organizations to provide an alternative venue for self-expression, personal and creative exploration, relaxation, communication and community building.
"I didn't think I belonged in here as an artist, but after I started practicing and made a few drawings, I felt like I was good enough. It's nice to come together," remarked Gary E., a Trail Lane Apartments resident.
At the upcoming show on campus, a limited amount of artwork will be available for visitors to purchase (cash only) from artists in attendance. Please RSVP for the April 8 art show through Pittsburgh Mercy's Facebook event page.
Learn More
Learn more about Point Park's Master of Arts in clinical-community psychology and the University's Confluence Psychology Alliance student group.
More About: Downtown Pittsburgh, M.A. in clinical-community psychology, Confluence Psychology Alliance