more news
Psychology Students Engage in Advocacy-Driven Research with Abolitionist Law Center Court Watch
Tuesday, May 2, 2023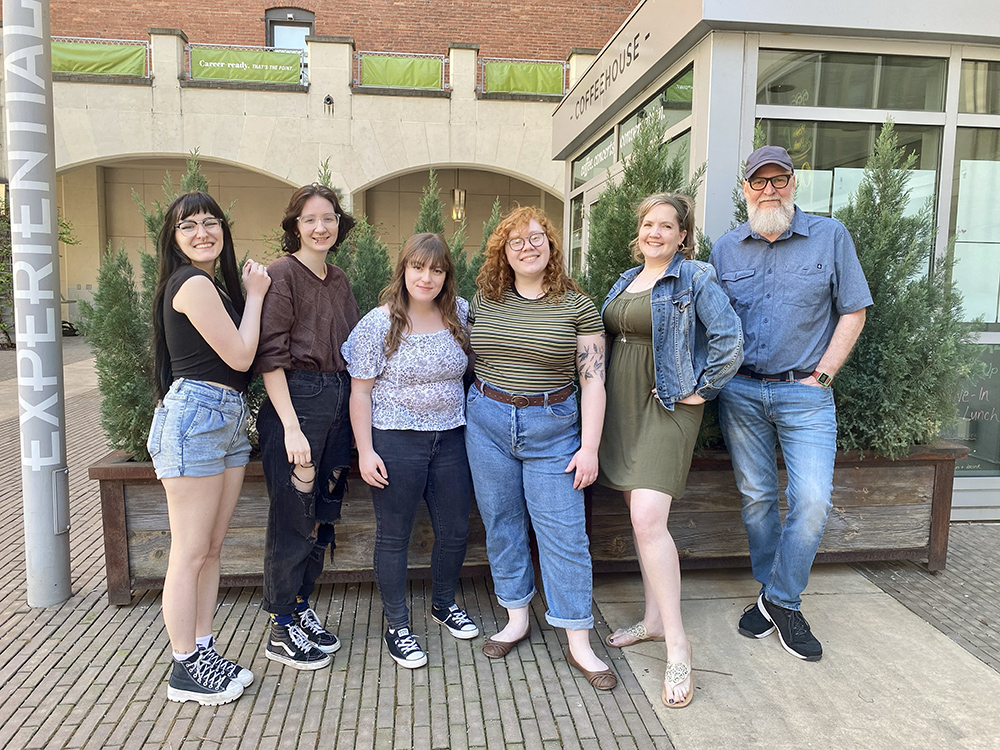 Pictured from left are students Nicolette "Nik" Tymczyszyn, Dillion Peterson, Darian Lees, Vivian Kinter, Cynthia Gelien and Professor Robert McInerney, Ph.D. The group collaborated with Professor Autumn Redcross, Ph.D., and the ALC Court Watch program this semester to conduct ethnographic observations on mental health court. 
Undergraduate and graduate students from Point Park University's Department of Psychology engaged in an advocacy-focused research project this semester as they conducted ethnographic observations of Allegheny County's mental health court in partnership with the Abolitionist Law Center (ALC) Court Watch program, which seeks transformative, racial justice by keeping courts accountable through observation, data collection and public reporting. The hands-on experience allowed students to apply course concepts directly to a real-world setting and gather actionable data.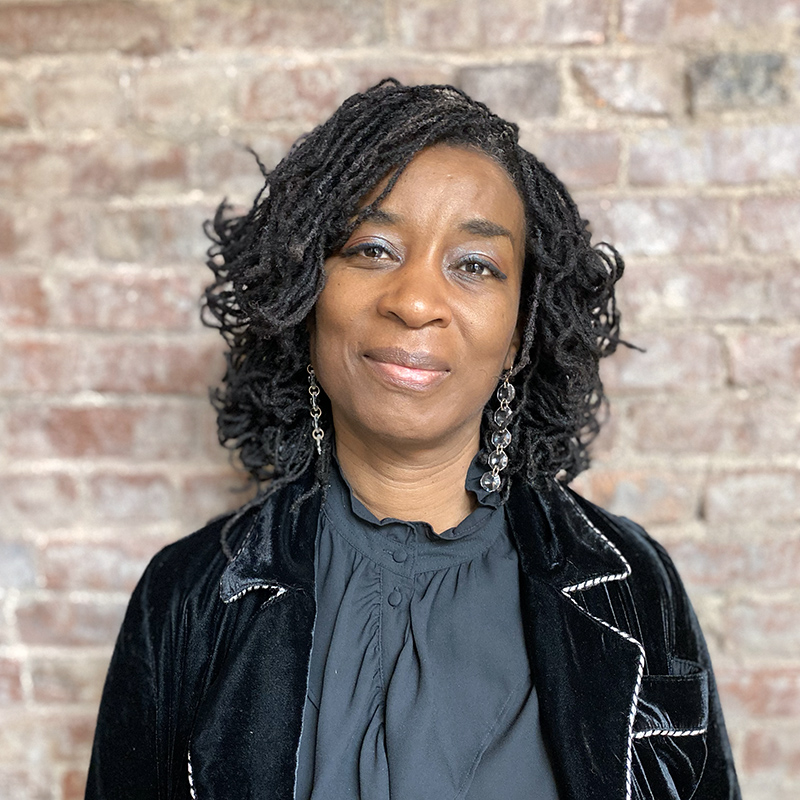 Professor Autumn Redcross, Ph.D.
"ALC Courtwatch observes and evaluates the justice system for trends and patterns that inform and illuminate the problem of overpopulation and demographics of mass incarceration," said Autumn Redcross, Ph.D., psychology professor and founding director of the ALC Court Watch program. "The work the students do underscores the good of Court Watch volunteers in observing and recording ongoings in the courtroom."
Redcross, who worked with Professor Robert McInerney, Ph.D., to facilitate this experiential learning opportunity, said students took qualitative notes on the disposition of the courtroom, including its character and setting, from the knick-knacks on furnishings to the directives of the judge. 
"Reading their summaries places you in the space as if you were there," she said. "Their observations are correlated and reviewed by volunteers, staff and attorneys who determine actions that will illuminate selected matters uncovered in their reporting."
"I got involved in Court Watch as it blends my interests and previous studies and experiences in mental health and criminal justice," said Cynthia Gelien, a student in the Psy.D. in Clinical Psychology program. "Everyone on the team has been enthusiastic and compassionate toward Court Watch, which I find extremely rewarding. "
Read testimonials below from undergraduate psychology students about how the Court Watch experience has enhanced their education and why they recommend Point Park's psychology program. 
"Through Court Watch, I have seen so much of the philosophy that we've learned in our classes playing out in real life. This experience showed me the type of community activism that needs to be done. If we don't have people going to courtrooms to see what is happening and talk about it, then nothing will change, and the people in difficult positions may never have the chance to actually get help. 
Point Park's Department of Psychology is where I have made a home. The psychology program is one that I love, and I would recommend it to anyone who wants to study humanistic psychology. We learn about philosophy that is meaningful and impactful in everyday life, and the professors are absolutely amazing." – Vivian Kinter '25, Wellsboro Area High School alumna, Wellsboro, Pa.
---
"As an intern with the Court Watch program last summer, I was introduced to mental health court. Over time, I began to notice patterns in the way that cases were being handled. After listening to the frustration and despair of individuals who had been through the system, I felt compelled to do something to help these individuals. Dr. Bob and I decided to pursue this as an action research project through the process of ethnography and the analysis of narratives that come from that process. I really believe were are doing great work, and I hope to bring more public awareness to the issues we observe.
During the past year, I've been really interested in conducting research and acquiring practical experience in whatever manner I can that helps others. My experience has been very fulfilling, especially considering I just mentioned this tiny concept to Dr. Bob, not really knowing what to expect, and it has now turned into a full-team research effort. Though there is still much work to be done, I am proud of the progress that has been made.
Point Park's psychology program places a lot of emphasis on humanistic psychology, which is based on the notion that individuals are inherently good and capable of development and progress. This approach resonates with me personally, as I believe that every person has the potential to be their best self, and that therapy can be a powerful tool for facilitating this process. 
One of the aspects of Point Park's program that I value most is the opportunity to make friends and build relationships with others who share my enthusiasm for psychology. There are many opportunities to interact with other students and create lasting relationships, from collaborative learning to extracurricular activities. One of the most exciting aspects of the Point Park Psychology program is the Confluence Psychology Alliance, a student-run group that promotes community, involvement and education in the field of psychology. The Alliance gives students many opportunities to broaden their knowledge of and appreciation for the field, from speaker events to social outings." – Darian Lees '24, PA Cyber Charter School alumna, Shaler, Pa.
---
"I came into this project nervous, not really knowing how to collect data nor having deep background knowledge on the judicial system within mental health treatment. I left the experience motivated to advocate for others. Being able to take action and see how the system works right before my eyes has been a huge awakening for me and my passion for this field. Being a part of this project made it even more clear to me just how much I am passionate about reforming and improving how we treat individuals within this field.
Everyone in Point Park's Department of Psychology is so helpful and kind. There is a wide variety of classes to choose from, whether you want to learn about how zombies and psychology are related, critical perspectives about the field or the impact of abuse and addiction, you're sure to get a super well-rounded education here from faculty who pull from their own experiences working in the field. If you're passionate about learning about the field of psychology through a humanistic perspective, dismantling all the myths about the field and helping people, Point Park is definitely a university you should check out." – Nicolette "Nik" Tymczyszyn '23, St. Marys Area High School alum, St. Marys, Pa. 
More About: success story, School of Arts and Sciences, faculty, behavioral sciences, Pittsburgh, Downtown Pittsburgh, psychology