more news
Psychology Students, Professor Co-Author Research Paper
Friday, October 1, 2010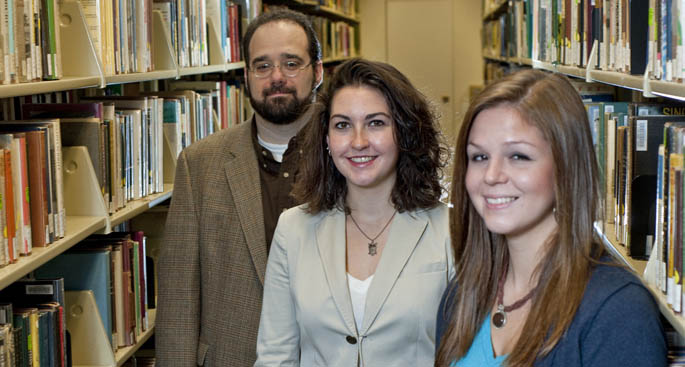 Assistant Professor Brent Robbins and psychology majors Meghan Higgins and Katie Over have co-authored a research paper along with a third student, Maureen Fisher.
Three Point Park undergraduate students never dreamed when they did a group project as freshmen that it would lead to a research paper co-authored with their professor — and will be published in a national peer-reviewed journal.
Students Meghan Higgins, Katie Over and Maureen Fisher worked with Brent Robbins, Ph.D., assistant professor of psychology, to co-author a paper titled "Conflicts of Interest in Research on Antipsychotic Treatment of Pediatric Bipolar Disorder, Temper Dysregulation Disorder, and Attenuated Psychotic Symptoms Syndrome: Exploring the Unholy Alliance Between "big pharma" and Psychiatry."
The paper is scheduled to appear in the Journal of Psychological Issues in Organizational Culture in January.
Robbins said it is quite unusual for undergraduates to get published in such a journal. Higgins, Over and Fisher each contributed five pages and Robbins added his own research and synthesized it into a single, unified report this summer.
"What we are doing here at Point Park in our department - getting students to present at national conferences and publishing their research — is quite unusual, and frankly, quite an achievement. It is an enormous benefit to the students because these experiences will substantially enhance their opportunities when they apply for graduate school and/or jobs in the near future," said Robbins, who is in his third year of teaching at Point Park.
Over, who graduated from Clarion Area High School in Clarion County, will graduate in December with a bachelor's degree in psychology. She plans to take the Graduate Record Examination this fall with a goal of earning a Ph.D. in clinical psychology.
"I'm so grateful to Dr. Robbins for taking charge of this and giving us this opportunity," Over said. "The psychology department is very strong. There are conferences, and you definitely can get involved outside the classroom."
Higgins, who graduated from Lincoln Park Performing Arts Charter School in Beaver County, is also a psychology major with plans to earn a Ph.D. in clinical psychology. She said Point Park's program provides excellent preparation.
"The caliber of the work is one thing, but Point Park is unique," she explained. "The mentor relationship gets built between the professor and the students. The professors go out of their way to find opportunities for real work experiences to get things published."
Robbins got to know Higgins and Fisher when both took his Psychology 101 class.
"They stood out to me as well above the average student in terms of writing skills, intellect, and reflexivity," said Robbins.
When the class was finished, Higgins and Fisher joined a group of students, including Over, to begin an investigation into conflicts of interest in medical research on pharmaceuticals, and especially psychiatric drugs. (Fisher has since relocated to another part of the country).
For the project, the students investigated information about conflicts of interest between the field of psychiatry and pharmaceutical companies. They looked at the task force members who make decisions about changes in diagnosis of mental disorders in the "Diagnostic and Statistical Manual of Mental Disorder," and examined the proportion of these psychiatrists who have financial ties to the pharmaceutical industry, Robbins said.
The students also gathered data on the proportion of medical school budgets that are funded by the pharmaceutical industry and reviewed court information on lawsuits brought against the pharmaceutical companies for the marketing of psychiatric medications for off-label uses in vulnerable populations such as children and the elderly, he said.
"They performed this investigation without any compensation or without concern for course credit, which is very impressive," Robbins said. "What a team."