more news
Recent Alumna Interning for Global Music Foundation in California
Friday, May 3, 2013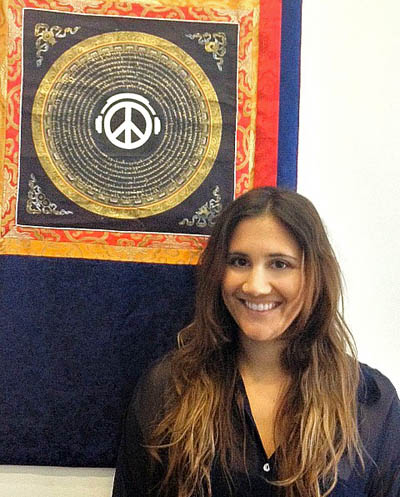 Meet Robyn Roux
Title: Intern
Employer: Playing for Change Foundation
Degree earned: Bachelor of Arts in Global Cultural Studies
Minor: Modern Languages (Arabic)
Graduated: December 2012
College Activities: ESL Conversation Partner and Point Park Cheerleading Squad (2009-2010)
Hometown: Richeyville, Pa.
High School: Bethlehem-Center High School
Now living in: Long Beach, Calif.
Hobbies/Interests: Reading, human rights activism, traveling and baking
How did you land your internship with Playing for Change Foundation?
I found the position listed on Idealist.org and saw that the organization focused on music as a tool for positive social change in conflict countries. The organization's focus on achieving peace through music education, and using the arts as an alternative to violence, immediately caught my attention. I responded to the posting with my resume and a cover letter, followed by a Skype interview with the staff (since I was still in Pittsburgh at the time).
What factors made you choose Point Park and its global cultural studies major?
I'm from a very small, rural town in southwestern Pennsylvania and was drawn to Point Park's extremely urban campus and small class sizes. I entered Point Park as an undeclared major because I first wanted to see where I would fit in. I took an anthropology class my freshman year in the global cultural studies program. This class opened my eyes up to subjects I'd never been exposed to before. The GCS major is a very unique mix of anthropology, sociology, political science and cultural studies. I've never seen this type of offering at any other university. The knowledge and passion my professors used in their lectures have been an inspiration to me. Their classes forced students to look at the world in a new way.
What's it like living and working in southern California?
The weather is always perfect! I really love living so close to Los Angeles because there's so many parts of the city to explore and there's always something going on. My internship is just south of Downtown LA, so the traffic on my commute is pretty intense.
Describe the type of work you do.
Playing for Change has music school programs for children in Nepal, Ghana and South Africa. My role is to research and write reports on possible Playing for Change partnerships, as well as discover new areas for music education programs.
What are your future goals?
I'm looking forward to receiving my Teaching English as a Second Language training, and then going on to teach English abroad to elementary students. I'd like to teach, travel and experience other ways of life before going to graduate school.
More About: internships, global cultural studies, Department of Humanities and Human Sciences