more news
Biological Sciences Grad Discusses Her Research on Tree Cores
Monday, May 20, 2013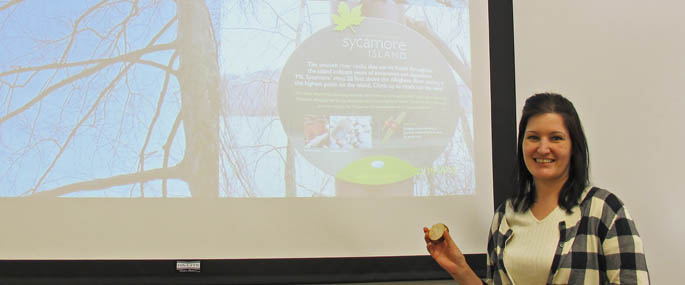 Reiland presented her research on tree cores to a General Biology II class taught by Matthew Opdyke, Ph.D.

Meet Ingrid Reiland
Degree earned: Bachelor of Science in Biological Sciences with a concentration in Environmental Science
Graduated: May 2013
Hometown and current residence: Pittsburgh, Pa.
High School: Wake Forest-Rolesville High School in Wake Forest, N.C.
College Activities: Completed various independent studies
Hobbies/Interests: Studying world cultures and history and enjoying nature and sports
Reiland is currently working on a research poster with Matthew Opdyke, Ph.D., associate professor of environmental science, on the topic of linking rural and urban societies and ecologies. Staff members from Allegheny Land Trust will present Reiland and Opdyke's poster at the Association for Environmental Studies and Sciences Conference, June 19-22.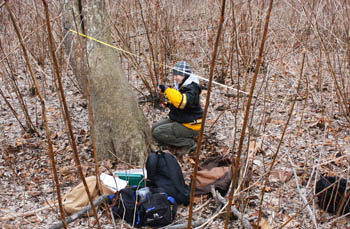 Reiland collecting tree cores at Sycamore Island

Tell us about your research analyzing tree cores from Sycamore Island.
The purpose of the Sycamore Island study was to evaluate the ability of the sycamore trees to adapt in a floodplain. The tree rings were studied to show the environmental and climate histories of the island, how the trees have endured the conditions and what the trees need in order to thrive in the future. The study was conducted for Allegheny Land Trust to help them with their plans for the island's conservation.
Why did you decide to attend Point Park and major in biological sciences?
I chose Point Park because I am pursuing a career in the environmental field and the University offered an environmental science concentration within its biological sciences degree. Also, I prefer smaller classes and lab sizes in order to get direct teaching and attention from the instructors, and this is something that Point Park provides.
Please describe the teaching style of Point Park's biology professors.
The biology professors are friendly and always ready to help. They welcome interaction in the classrooms and labs, and they try to mold their courses to the students' needs.
What was your favorite experience at Point Park?

I enjoyed conducting the labs in small groups. We learned from each other as well as the instructor, and we had fun while we worked. There were plenty of opportunities to perform our own research and experiments.
What are your career goals?
I would like to get a job working in an environmental or ecology group, preferably in the consulting industry.
More About: alumni, biology, M.S. in environmental studies