more news
Recent Graduate Lands Position Within National Intelligence Community
Tuesday, June 19, 2012

Photo by Silvo Portillo
Meet Jeffrey Gurski, an academic excellence award recipient 
Degree Earned: Bachelor of Science in Intelligence and National Security
Minors: History and Criminal Justice
Graduated: May 2012
College Activities: Intramural volleyball and vice president of the Society for Intelligence and National Security
Interest/Hobbies: Playing golf, hockey and tennis and watching Penguins and Pirates games
Hometown: Flemington, N.J.
Now Living In: Tampa, Fla.
Current position: Working within the National Intelligence Community
Why did you pursue a degree in intelligence and national security?
The decision to stay in the Marine Corps or get out and go to school was very hard. School was never my thing, but the Marine Corps was and I enjoyed it. When I came upon the intelligence and national security program at Point Park and looked at the courses I needed to take, I was sold. It was the only way I would leave the Marines and go to school. I have a deep passion for the field. My time in the Marine Corps exposed me to the intelligence world and I loved every minute of it.
What makes the program at Point Park unique?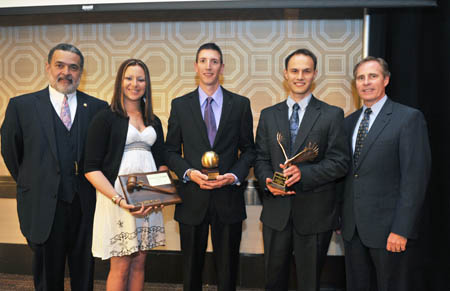 Gurski (center) is pictured with Gregory Rogers, J.D., chair of the
Department ofCriminal Justice and Intelligence Studies, (far left);
President Paul Hennigan (far right);and
fellow award recipients
Amanda Heinbaugh and Patrick Tutka.
The intelligence and national security program is very unique in that our professors have such a deep background working in the intelligence community. Their knowledge and experience is invaluable. Students are not only learning book material but can learn and absorb information and scenarios that our professors have gone through in their careers as intelligence professionals.
What are your career goals?
I am currently working within the national intelligence community. This was my goal going into college and I am excited that I have reached it. However, that is only goal one of many. I am a person who is constantly setting new goals, each one higher than the last. I live by the quote, "Aim for the moon, even if you miss you will land among the stars." Other short-term goals I have are to excel in the position I am currently in and reach the maximum promotion position available. My long-term goal is to achieve the position of secretary of defense.

What advice do you have for students to make the most of their time at Point Park?
Get involved with something you love. The best part of my time at Point Park was the people I met and the great times we had together both on and off campus. Don't be afraid to meet new people and give everyone a chance; first impressions are not always the best judge of someone's character. Get a group of friends and take advantage of the opportunities that Point Park offers as this is something that will be hard to find once you graduate. For example, try intramural sports or play pool or ping pong. I will always remember playing volleyball and then going out afterward with friends. If you love your major, then be involved in a related club. If one does not exist, then create one. The more you surround yourself with people and become involved with the things you love, the better experience you will have at Point Park.
Is there anything else you'd like to add?
No Intelligence, No Victory.
Know Intelligence, Know Victory.
More About: alumni, intelligence and national security, criminal justice, veterans, history, success story