more news
Renowned Environmentalist to Speak at Point Park on Nov. 2
Tuesday, November 1, 2011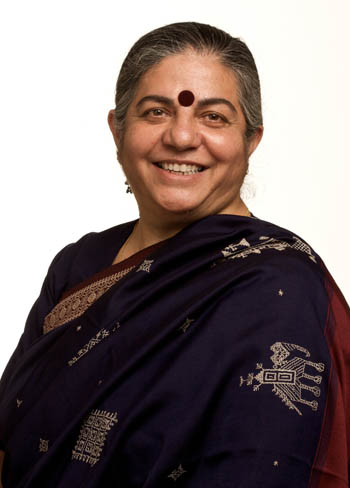 Point Park University invites the public Nov. 2, 2011 to an evening with the renowned environmentalist Vandana Shiva, Ph.D. Physicist, ecologist, activist, editor, author and dedicated defender of the environment, Shiva has been called one of the top seven most powerful women in the world by Forbes magazine. Point Park University's Department of Humanities and Human Sciences and global cultural studies program are welcoming the international activist for the program's signature lecture of 2011. The free event begins at 6 p.m. in the University Center's GRW Theatre followed by a reception.

Shiva will speak about her interdisciplinary research in science, technology and environmental policy and her work changing practices and paradigms of agriculture and food. She will discuss founding the Research Foundation for Science, Technology and Ecology, an institute to address ecological and social issues in India, and Navdanya, a nonprofit organization dedicated to protecting biodiversity, defending farmers' rights and promoting organic farming. More than 70,000 farmers are members of Navdanya. The group's efforts have resulted in conservation of more than 2000 rice varieties from all over India and creation of 34 seed banks in 13 states across the country. Through all of her work, Shiva argues that women must play pivotal roles in helping to solve the issue of food security in the developing world.
Shiva's most recent books, "Biopiracy: The Plunder of Nature and Knowledge" and "Stolen Harvest: The Hijacking of the Global Food Supply" consider the social, economic and ecological costs of corporate-led globalization. Her first book, "Staying Alive" (1988) helped redefine perceptions of third world women.
Shiva's many awards include the Right Livelihood Award (called the Alternative Nobel Prize) in 1993 and Sydney Peace Prize in November 2010. She consults with the government in India and for government and research institutes around the world.
For more information about the Nov. 2 lecture and Point Park University's global cultural studies program, contact Channa Newman, Ph.D., at 412-392-3480. To register for the free event and reception, visit www.pointpark.edu/ces. Seating is limited and on a first-come, first-served basis.