more news
Scholarship Into Political Action is Focus of Keynote Speaker at HHS Symposium
Tuesday, April 8, 2014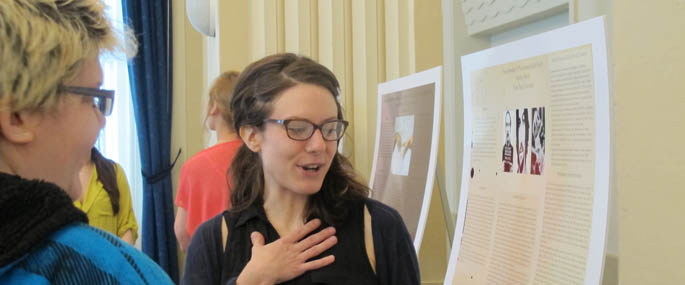 Check out the web feature story on the 2013 Humanities and Human Sciences Symposium.

Don Mitchell, Ph.D., distinguished professor of geography at Syracuse University, has been selected as the featured speaker for Point Park University's Fifth Annual Humanities and Human Sciences Symposium on Friday, April 18.

The primary goal of the annual HHS symposium is to showcase the original research and readings of creative work by Point Park's undergraduate students across a variety of majors including English, creative writing, psychology, global cultural studies, political science and more.
This year, the titles of the student panels include:
Adventures in Marxism
Sexuality and Gender Revisited
Global Feminisms: Re-presenting (Post) Modern Womanhood
Re-envisioning Jane Austen: Novel Interpretations of Pride and Prejudice and Sense and Sensibility
Challenging Canonicity: Subverting the Norms of Literary Tradition
Creative Writing and Visual Art
Creative Writing Process: Vision and Revision
In selecting Mitchell as the keynote speaker, Robert Ross, Ph.D., assistant professor of global cultural studies, explained, "We wanted a social scientist whose work was deeply critical of entrenched systems of power so that students could see a scholar who puts his research and teaching into political action. Don's work is very much in line with our emphasis on critical thinking and social justice."
Mitchell is the author of numerous books on the historical geographies of labor struggles, the political economy of culture and conflicts over urban public spaces including "The People's Property? Power, Politics, and the Public" and "They Saved the Crops: Landscape, Labor," and "The Struggle for Industrial Farming in Bracero-Era California." In addition, he has received several awards and honors, including a MacArthur Fellowship and a Guggenheim Fellowship, and most recently, the Anders Retzius Medal in Gold from the Swedish Society of Anthropology and Geography.
Student poster presentations along with Mitchell's keynote address will begin at noon in the Lawrence Hall Ballroom. Panel presentations and creative readings by students will then take place throughout Academic Hall from 2:30 to 5 p.m.

Point Park students Andie Fullmer, an English/creative writing major and Katy Albert, a public relations and advertising major are helping to organize the symposium this year.
Learn More
The symposium is free to attend and open to the public. For more information, contact Megan Ward, Ph.D., assistant professor of English, at 412-392-8187 or mward1@pointpark.edu.
More About: faculty, Department of Humanities and Human Sciences, student presentations, creative writing, symposium, English, psychology, global cultural studies