more news
School of Arts and Sciences students land various summer internships and jobs related to their majors
Tuesday, May 22, 2012
Point Park students are frequently connected to internships and career opportunities through recommendations from faculty, staff, and the Career Development Center. Below is a sampling of students throughout the four departments of the School of Arts and Sciences who are doing internships and jobs this summer to gain hands-on, workplace experience related to their areas of study.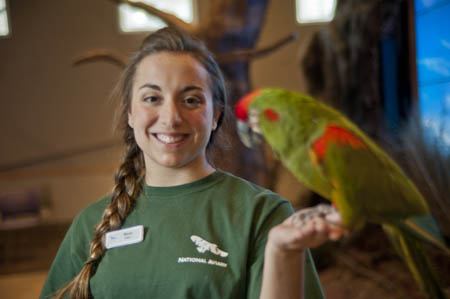 Biological sciences major Maria Fusco interned this past spring for the
National Aviary in Pittsburgh. Learn more.
Emily Boehm, Pre-Kindergarten - 4th grade and special education K-8, working for the Eagle's Nest children's activity center at the Giant Eagle in Brentwood, Pa.
Elizabeth Cole, Pre-Kindergarten - 4th grade and special education K-8, working as a camp counselor for Camp Deer Creek in Indianola, Pa.
Matt Coleman, forensic science, interning at the Allegheny County Medical Examiner's Office
Greg Harbison, double majoring in mechanical engineering technology and electrical engineering technology, interning at Continental Design and Management Group, an engineering management firm in Canonsburg, Pa.
Stephanie Hoehn, behavioral sciences, interning at the YWCA of Greater Pittsburgh
Ashlie Kuhn, criminal justice, interning with the Moon Township Police Department
Sarah Mahmood, Pre-Kindergarten - 4th Grade and K-8 special education, working as a camp counselor for the Woodland Imagination Camp at Lucy V. Barnsley Elementary School in Rockville, Md.
Kristen Montgomery, psychology, interning in the fall at The Bradley Center, a behavioral healthcare and child welfare center that provides comprehensive services for youth and families
Jesse Padjune, English/creative writing, copywriting intern at the Pittsburgh Post-Gazette in the advertising department
Emily Petsko, global cultural studies and print journalism double major, doing an independent study teaching English for Experiential Learning International in Kathmandu, Nepal and volunteering at an orphanage
Karly Shorts, psychology, interning at the Allegheny County Office of Children, Youth, and Family Services
James Walbert, civil engineering technology, interning with GAI Consultants, Inc., an engineering and environmental consulting firm founded in Pittsburgh with multiple locations across the U.S.
Harbison heard about his internship through School of Arts and Sciences career counselor Santina Frazer while Shorts was referred to her internship by her advisor Robert McInerney, Ph.D., associate professor of psychology.
Petsko came across her summer position while researching volunteer abroad opportunities. "The program in Nepal was perfectly suited to my interest of studying in Asia, so I applied. I believe my experience with mentoring children and serving as a conversation partner in Point Park's ELS program contributed to my acceptance into the program," she said.
As for Boehm, working at the Eagle's Nest children's activity center is providing her great opportunities. "I get to interact and work with a diverse group of children including some who have special needs. The knowledge and experiences I am gaining will be very beneficial for my future as a teacher."

Cole was referred to her position by one of her education professors. "Dr. Eric Stennett gave me the name of the camp and said that I would be great for the job as a camp counselor. I couldn't ask for a better place to work during the summer."

For information regarding internship and career opportunities, visit the Student Career Opportunities and Support page.

Are you a School of Arts and Sciences student doing an internship? If so, please email adabbs@pointpark.edu if you'd like to share your internship experience on the Point Park University website.