more news
School of Arts and Sciences Welcomes Dean Charles Fox
Friday, September 3, 2010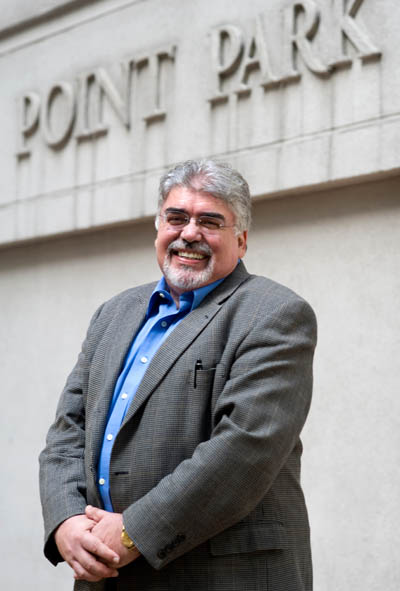 With a slight Brooklyn accent, Charles Fox, O.D., Ph.D., new dean of the School of Arts and Sciences, talks about high school in a New York City ghetto, where he began the uncommon path of his 33-year career.
"It's a totally bizarre path," he admits. He started out teaching college psychology then later earned a clinical degree and started an optometry practice. But he's now back in the environment he loves - liberal arts.
Second youngest of four children, Fox was the first in his working-class family to attend college. Raised during the Vietnam War, he was influenced by psychologists who taught at his high school, and his desire to understand people.
"How is it my friends could grow up in the same environment, and one would become a war resister and one a Vietnam volunteer?" That interest resulted in his psychology degrees, including a doctorate.
While a psychology fellow at New York's Columbia University, Fox made his first career turn when he joined the Institute for Vision Research in New York. Then, at Missouri's Washington University, he discovered he preferred working with patients over computer modeling. He wanted to deal with eye disorders but not become a surgeon, so Fox chose optometry, obtaining his doctorate and beginning residency within two years.
Later at the University of Maryland, Baltimore, he became frustrated with medical education that emphasized technical skills needed to pass exams over critical thinking skills required to solve problems. Fox left medical education and opened an optometry practice. "I thought I was going to leave higher education altogether," he says.
But after a visiting professorship at Franklin & Marshall College, in Lancaster, Pa., Fox realized that his interests had parted from medical education and really were focused on the liberal arts that he adored. He accepted a post as associate dean at Wichita State University.
There, Fox performed the work he is most proud of. "We broke ground on a $6.5 million clinical building to house a program I developed over six years that opened last year." The oral health services program provided 2,000 free dental visits its first year.
Why Point Park, then?
Fox says he was drawn by the opportunity to build new programs as an outgrowth of Point Park's evolution from a college to a university. Equally important is University President Paul Hennigan's vision, which Fox believes they share. "One of my values is higher education institutions have an obligation to be good, active citizens of their communities."
The new dean faces challenges, including strategically assessing which faculty ideas are sustainable and pursuable. He empathizes, "Faculty work has been my entire career; that's an advantage. It wasn't long ago I was the one arguing with the dean from a faculty perspective."
Fox's continuing path may include Point Park's extended campus … the city of Pittsburgh. Throughout his career, whether at Baltimore's food pantries or Wichita's dental clinic, he has connected with the community. Pittsburgh was partly the reason he chose Point Park.
"Pittsburgh reminds me of the Brooklyn I grew up in -- it has neighborhoods, it's ethnic. It's a wonderful city."