more news
Secondary Education Student and Professor Present on Autism
Thursday, April 7, 2016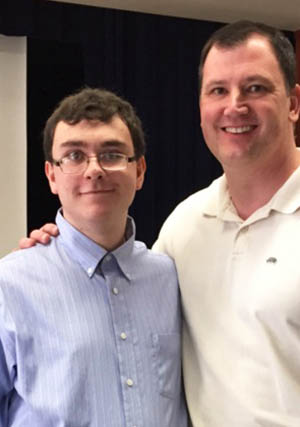 Freshman secondary education social studies and special education major Timothy Grebeck and Special Education Assistant Professor Matthew Vogel, Ph.D., recently presented on the topic of autism to teachers, staff and administrators in three schools within the Seneca Valley School District.

"When Tim presented his journey with autism in my Intro to Special Education and Inclusive Practices class, I immediately knew that school districts would greatly benefit from seeing his presentation," remarked Vogel.

Vogel added: "With the rise in autism spectrum disorders, comes the need for teachers to be educated on the unique needs of individuals with autism spectrum disorders."
Grebeck and Vogel spoke at Evans City Middle School, Evans City Elementary School and Connoquenessing Valley Elementary School about autism spectrum disorders and teaching strategies for students with autism. Grebeck then discussed his personal experiences living with autism.
"In my presentation, I covered the history of autism, what autism is and its strengths and weaknesses, how it affects me and others, and what can be done to help people who have a diagnosis on the autism spectrum," explained Grebeck.
"As a Point Park University professor, this was an incredibly rewarding project. We look forward to presenting at more schools," said Vogel.
Lauri Pendred, principal of Evans City Elementary School, sent the following remarks to Grebeck and Vogel: "I cannot adequately express the value of what you both presented to our teachers. They were all abuzz with conversation and how they could apply it to their classrooms. I do hope you are willing to come again to speak to our paraprofessionals, teachers and administrators who could not attend. Thank you again for a wonderful presentation."
Grebeck's career goals are to become a high school history teacher, continue publicly speaking about autism and to write a memoir of his life story someday.
"Point Park University has been and continues to be a tremendous aid in pushing me to pursue my dreams. I highly praise our education department for consistently staying ahead of the trends in the world of education," said Grebeck.
Grebeck added: "I sincerely believe Point Park is the place for me to become the teacher I am meant to be."
Learn More
Explore Point Park University's secondary education undergraduate program (with the option to become dual certified in special education) and master's degrees in secondary education and special education.
More About: School of Arts and Sciences, secondary education, education, special education, student presentations, faculty, faculty presentation